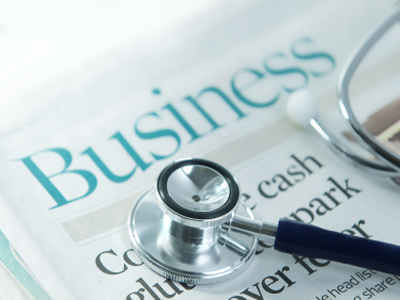 I recently saw a report that claimed the best businesses in the current business climate are dental practices, medical practices and health care related businesses. The report said the reason that these businesses were doing well was because the need remains, regardless of people's ability to pay. This means that if you are having a medical emergency, you spend the money and worry about how to cover the credit card bill later.

I have been writing and speaking in public suggesting that business buyers seek out from this industry those types of businesses that are mandated by law or mandated by life. Medical-related activities are certainly mandated by life.

Of course, unless you are a medical doctor or dentist you are not likely to buy this types of businesses. However, you can buy related types of businesses. For instance, senior citizen services are going to continue to be an expanding field. These types of businesses include adult day & home care, medical staffing agencies, and medical supplies services, just to name a few.

In my CPA practice, I specialize in business evaluations for business buyers. I have been evaluating and studying the profitability of businesses for twenty years, which gives me a unique perspective on all types of businesses. I see things slightly differently than most financial professionals, because I get into the inner workings of a business before my clients purchase it.

Let me tell you some of what I have found while looking at the medical field.

When the economy changed a few years ago, people reduced their spending on cosmetic surgery such as dental implants, which is a very lucrative source of dental income. The public, of course, continued to spend money on dental emergencies, especially where pain is involved. I personally know of more than a dozen dentists who found their income drop while their clinic's rent didn't. My eye doctor, along with many more optometrists, found that people bought cheaper glasses or went to Costco to buy frames.

Other than surgeons, medical doctors are finding that more of their private practice patients are falling under Medicare - not the most lucrative patients. A new trend towards patients paying an annual fixed fee for superior access to medical doctors ranging from $1,500-$1,800 is making some practices more profitable, while the doctor is seeing fewer patients.

Another piece of good news in the industry is in the field of staffing agencies, where there is a high demand for medical technicians and nurses from the hospitals and private practitioners. What is interesting is that finding the people to fill the jobs is more difficult. One reason is that many nurses are on unemployment and do not want to go back to work until their benefits run out. This is certainly a reverse of what we would expect, in this economy.

Home health care is a rapidly expanding field, and in the long run will be one of the mandated by life businesses. However, in the short term, volume is down because there is little insurance to cover this service. So, many people have chosen to take care of their parents at home rather than pay someone to come in and assist them. This same industry finds itself competing with a lot of other firms that jumped in to this very lucrative market before it slowed down. It will come back with the economy, but in the meantime many firms in this industry are waiting it out.

The point I am trying to convey, though, is that generalities do not always apply to specific businesses in an industry. When an industry is doing well, more people get into it and flood the market. When it is doing poorly, everyone gets out. The few that do remain get a larger share of the shrunken market, and when the economy picks up, which it will, they will be well placed to ride the wave upwards.

It is critical to learn all about any industry you are considering buying into. Find out both the risks and benefits specific to that exact field -- there are plenty of both.

About The Author: Willard Michlin is a CPA, and offers assistance in the key areas involved in the buying of a business: due diligence and business valuation. He can also be contacted at his Ventura County, California office by calling 805-428-2063.
Categories: BizBen Blog Contributor, How To Buy A Business