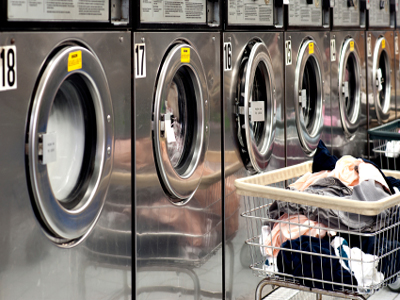 The amount of interest in the coin laundry business is staggering! I specialize in the laundry business thus I am unaware of other industries and the amount of interest they garner but I do know that I speak to many, many people who want to get into this business.

Why do so many people explore this business? Why do you want to get into the Coin Laundry business? I assume you have your reasons; many that may be common and some very personal.

Let's explore some reasons why many people find this to be an interesting or attractive business (outside of the shear glamour of it all!).

1. Simplicity. It is quite simple, certainly more so than other businesses. Your clients do much of the work, you don't have to get a degree or go through licensing procedure and there is little that is overly technical.

2. It is a steady business as all people do laundry and do it on a regular basis.

3. It can be a very profitable business and there are no receivables. People tend to like collecting cash too!

4. Flexibility in work hours is a very attractive feature of the laundry business. There are no set hours and it is highly unlikely you need to be at a store 40 hours a week.

5. Potential for multiple locations. Once you own and operate a store you can develop a system and rhythm and learn how to efficiently duplicate your efforts. You don't have to reinvent the wheel on subsequent stores.

6. Little management or need to deal with employees.

7. Potential for your children get an early start on work and an introduction to entrepreneurship.

8. Tax benefits by means of depreciation and general business expenses.

These reasons motivate the self starter or the person who wants to get away from the corporate life, the commute, the 8-5 hours, the business suit and politics that goes with that world. The Laundry business is truly the poster child for the "KISS" concept.

Ok, let's buy a Laundromat! Woo Hoo!

Well, I would be remiss if I didn't point out a few things you may want to consider. This is by no means meant to discourage you but you may want to ponder these aspects of the business before jumping in with both feet.

By way of example; I recently sold a store for a gentleman who thought owning a store would be fabulous for many of the reasons I mention above. On top of that his son owned a store and told his Father how much he enjoyed and profited from the business.

This gentleman was a retired Fireman, an owner of another business that required little time or customer service and he was a man who liked things neat and in order. Also, the store he bought was about 45 minutes from his home. To top it off he was, for all intents and purposes, retired and really didn't need to make extra money.

He quickly determined that he didn't like the business. The occasional drive at odd hours was too far, a Laundromat is not always a neat and orderly place and people don't always treat your store with the utmost in respect. And this store was on the smaller side so the profit, though it had more potential than he realized, was never going to make him enough money to change his already comfortable life.

In short the day he sold the store was similar to the day the proverbial man sold his boat; it was the happiest day of his life!

Time to explore some reasons the Laundry business may not be for you.

1. The capital investment can be substantial
2. All businesses are a risk and this is no different. It's very competitive
3. Costs keep on rising. Utilities and Rent can consume up to 50% of your revenue
4. A store is typically open 100 or more hours a week
5. You may need to handle emergency situations at odd hours or the weekends
6. Customers will abuse your store and maybe your psyche
7. Consider your personal safety due to locations of some stores
8. Are you willing to deal with the public and give good customer service?
9. Are you mechanically inclined? (not mandatory but it helps)
10. Are you ready to wear many hats? (janitor, clerk, mechanic, accountant, marketing and advertising specialist, bookkeeper)
11. Glamorous it is not!

Ok, let's buy a Laundromat! Woo Hoo! Or, maybe not.

Again, this is not meant to discourage anyone. There are many great reasons to get into the laundry business and to be sure many love the business and profit greatly from it. Since many reading this may not have owned a store and have no way of knowing some of these things I suggest you consider these aspects of the business in addition to the many good reasons you have for jumping in.

All businesses, jobs or any endeavor have their down side or challenges. Hopefully this will help you to determine if your personality, desires and skill sets are conducive to the Laundry Business. After all, the last thing you want from your new Laundry business is to be put through the ringer!
Categories: BizBen Blog Contributor, Buying A Business, How To Buy A Business
Contributor:

Areas Served:
Southern California
Phone: 949-500-5893 Cell, 949-500-5893 Text
I specialize in the laundry industry broker and consultant in Southern California. I assist buyers navigate the many facets of finding, evaluating, and operating a laundry business. I also help current laundry owners find additional stores, sell, evaluate an existing laundromat. Call 949-500-5893.