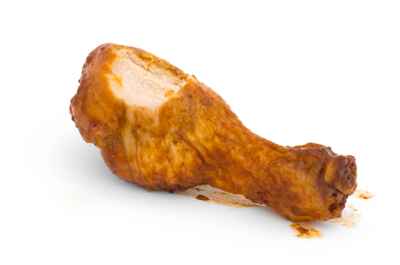 Since 1952, KFC has been serving up Colonel Sander's "finger licken' good" chicken diners to people all over the world. KFC is famous for its Original Recipe® fried chicken. The story goes that the recipe for their famous chicken that is still used today, was created and perfected by Colonel Sanders more than a half century ago.

KFC has grown into an international company that serves more than 12 million customers each day through a network of 22,200 restaurants in 109 countries and territories around the world.

Popeye's entered the market in 1972 and quickly became a favorite for their Louisiana style food. Popeye's distinguishes itself within the fast food franchise industry by having a unique "New Orleans" style menu that features spicy chicken, chicken tenders, fried shrimp and other seafood items. Today the company operates over 2,000 franchises worldwide.
These two companies own a good portion of the market share when it comes to fast food franchises that specialize in this type of food. If you are looking to get into this market, you have to decide between KFC vs. a Popeye's franchise. So, which fast food franchise is the better investment? In my opinion, it's Popeye's.
KFC's Financial Troubles

In 2012, KFC was dealt a financial blow when it lost 29 of its franchise locations in the United States when the owner of the locations filed for bankruptcy. Popeye's was quick to capitalize on the failing fast food franchises and presented a deal to purchase all of the recently closed locations for just about $14 million with the intent to reopen them as Popeye's franchises. The deal was accepted by the bankruptcy court and the restaurants closed down, rebranded, redecorated and reopened as Popeye's. While KFC is growing in popularity internationally, in the US, KFC is known as a brand that has been struggling as restaurants continue to close.
Taste and New Products

While I personally don't eat at either KFC or Popeye's, I have seen several reports that indicate that Popeye's offers a better quality product than KFC. When comparing their biscuits, Carol Tice a contributor for Forbes.com said: "Take a biscuit from each chain and have a bite, and any questions you have will be resolved. KFC's biscuit is a biscuit. Popeyes' biscuit is a buttery, melt-in-your-mouth little slice of pure buttermilky heaven. It doesn't even need anything on it."

Another common complaint that I have heard is that KFC's quality of chicken has declined and become greasy. Additionally, KFC has been criticized for not adding new items to their menu as frequently as other fast food chains do.

Reputation

Let's not forget the PR nightmare that occurred in 2004 when KFC's supplier was accused of animal cruelty. PETA filed law suits against them and still to this day has a website dedicated to boycotting their company. KFC has been at the center of bad PR for years and something like this can stick with a company indefinitely.
The Conclusion

Popeye's is a growing brand, while KFC seems to be losing popularity in the US. The bankruptcy of an owner that controlled 29 locations could be a red flag that their franchisees don't have the support that they need or that the proper training was not it in place to help franchisees remain successful in business. Years of bad PR pile on to the list and on top of everything I mentioned here, opening a KFC franchise requires an initial investment of $1.2 - $1.8 million while a Popeye's franchise ranges between $306,000 and $371,000. When looking to buy a fast food franchise, if you are deciding between Popeye's or KFC, in my opinion, Popeye's is the better investment.



About This Contributor: Peter Siegel, MBA is the Founder & Senior Advisor (ProBuy & ProSell Programs) at BizBen.com (established 1994, 8000+ California businesses for sale, 500 new & refreshed postings/posts daily) working with business buyers, business owners/sellers, business brokers, agents, investors, and advisors). Phone him at 925-785-3118 to discuss strategies regarding buying, selling, (or financing a puchase of) California businesses.
Categories: BizBen Blog Contributor, Franchises For Sale, How To Buy A Business