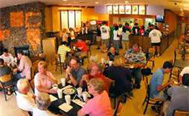 Fully half of all the businesses that are sold are retail food storefronts. This includes franchise, non-franchise, sandwich shops, bagel shops, coffee shops, as well as good old fashioned sit-down restaurants. Half!

I've done due diligence and investigated countless food-related restaurant businesses for sale for the potential buyers of these businesses. What I have found is a commonality among the ones that are doing poorly they always have very low budgets for advertising.


On the other hand, just because there is a high advertising budget does not automatically mean success but it sure does help.

Here's a true-life example from back when I was a young entrepreneur, starry eyed and fresh faced, looking to make my first million. I was madly in love with a girl who shall remain nameless. I remember this girl very well, even though I haven't seen her in the 36 years since.

I also remember her parents, who I adored. They owned two McDonalds franchises, both located in the south central part of Los Angeles. Not quite Watts, but not Torrance or Manhattan Beach, either. I was told that these two franchises were the most profitable ones in all of Los Angeles County. Back in 1972 a dollar bought you a heck of a lot more, and these two franchises combined were pulling $750,000 net taxable profit. That is equivalent to making 2 million dollars profit in today's world. McDonalds was doing very well for most of its franchises at the time, but why were these two locations doing so remarkably well?

Well, they were a standout because they did everything that a particularly good marketing man suggested, and they did it first class. So, if you are going to own a food place here it is "I am handing you the key to getting very, very rich at it."

First, these parents of hers joined every church in the area, of every denomination. The fact that they were Jewish did not stop them any! Whenever there was a church function, they donated the use of a fountain drink machine. They met with all their customers personally. They went around the locations and talked to each and every customer. They introduced themselves, socialized, and made friends.

Their relationships were so strong that when everyone came to their McDonalds after Sunday church services, the littlest kids would come to the counter and ask for Dave.¯ They felt that Dave¯ was a personal friend of theirs. And so Dave¯ would give them cookies or other goodies.

These savvy business owners donated money, time, drinks (not food), and otherwise gave of themselves to every community activity. They did this for the first location, and then did it again for the second location.

They really knew how to Schmooze.

Conclusion:

The secret of a successful fast food restaurant is to keep putting your business name in front of your prospects over and over and over until none of them could even consider going anywhere else.



About The Author: Willard Michlin, CPA offers business buyers Due Diligence Services (Second Opinion, Offer Assistance, Final Due Diligence) when they are thinking of making an offer on a business or in the process of investigating a business purchase. Serving all of Southern California. He can be reached direct at 805-428-2063 for more information and an appointment.
Categories: BizBen Blog Contributor, Buying A Business, How To Buy A Business
Comments Regarding This Blog Post
Wow, Willard, what a great story. It's been my experience as well that some of the most successful business owners are the ones who a) enjoy what they do, and b) take the time to show their customers that they appreciate their business. Businesses, such as pizza parlors, that sponsor little league teams and host "after the game" events, many times prove more successful in the community than those who do not. I always tell my buyers that they should feel comfortable in the city and area that they choose to set up shop, because they are going to be at that store 6 days a week, possibly 7 when they are building the business.