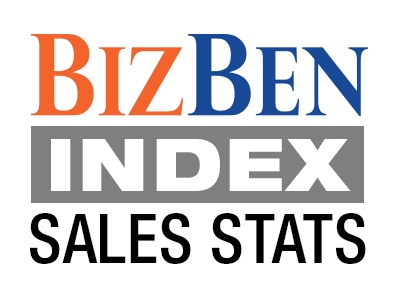 California Small Businesses For Sale Sold Stats - BizBen Index

Total sales of California small businesses sold were up 46.2% from last month and up 2.7% from the same time last year in California.

Total October 2019 California Small Businesses Sold: 1,494

October 2019 California Small Businesses Sold By County:

Alameda County 70, Butte County 4, Contra Costa County 9, El Dorado County 11, Fresno County 43, Humboldt County 1, Kern County 36, Los Angeles County 474, Marin County 15, Merced County 4, Monterey County 18, Napa County 1, Nevada County 4, Orange County 148, Placer County 13, Plumas County 1, Riverside County 90, Sacramento County 63, San Bernardino County 74, San Diego County 108, San Francisco County 60, San Joaquin County 15, San Luis Obispo County 20, San Mateo County 14, Santa Barbara County 10, Santa Clara County 58, Santa Cruz County 15, Shasta County 22, Solano County 7, Sonoma County 20, Stanislaus County 13, Sutter County 9, Tehama County 4, Tulare County 10, Tuolumne County 3, Ventura County 27

October 2019 California Small Businesses Sold By County - Most Sales:

Los Angeles County: 474
Orange County: 148
San Diego County: 108
Riverside County: 90
San Bernardino County: 74
Alameda County: 70
Sacramento County: 63
San Francisco County: 60
Santa Clara County: 58
Fresno County: 43
Percentage Increase From Last Month: Up 46.2%
Percentage Increase From This Time Last Year: Up 2.7%

Total Monthly Business For Sale Stats For California - Last 6 Months:

September 2019: 1,022
August 2019: 1,121
July 2019: 1,146
June 2019: 1,357
May 2019: 1,580
April 2019: 1,217

Last Year's 2018 Total Small Businesses Sold For California: 15,685

Some Key Statistics That Affected Sales Of California & California Small Businesses For October 2019:

* Business Buyer Searches Were Up 22%
* Business For Sale By Owner Postings Were Up 15%
* Interest Rates Were Steady Throughout The Month
* SBA Loan Financing Inched Higher For Business Purchases
* Business Broker & Agent Postings Increased Up 33%
* Statewide PGE Power Outages Contributed To Some Lower Numbers
* Both ProBuy & ProSell Program Participants Increased 23%

To view all small business sold stats for all Counties and Cities in California go to:

California Small Businesses Sold Stats - BizBen.com Index

Most Popular Search Requests By Buyers, Sellers, Brokers, Agents: For Sale, Wanted To Buy Postings For This Period:

1. Car Washes
2. Laundromats
3. Gas Stations
4. Manufacturers
5. Liquor Stores
6. Convenience Stores
7. Relocatable Businesses
8. Postal/Mail Box Stores
9. Auto Repair Shops
10. Businesses With Real Estate
11. FBSO's - For Sale By Owner
12. Fast Food Franchises
13. eCommerce Websites
14. Smoke & Vape Shops
15. Smog Test Shops
16. Absentee Run Businesses
17. Boba Shops
18. Pizza Restaurants
19. Tire Stores
20. Fast Food Restaurants

About The BizBen Index:

The BizBen Index has been collecting stats and information regarding California small & mid-sized businesses sold for over 15 years. The BizBen Index is part of BizBen.com (established over 25 years) - which currently lists over 8,000+ active California small & mid-sized businesses for sale, businesses wanted to buy, blog, discussions, and resources for buying and selling California businesses. Peter Siegel, MBA is the Founder and Director of BizBen.com & BizBenNetwork.com and consults daily with business buyers, owner/sellers, business brokers, agents, small business advisors on the topic of buying and selling businesses throughout California.
Categories: Business For Sale Statistics, Buying A Business, How To Buy A Business, How To Sell A Business, Selling A Business
Contributor:

Areas Served:
All Of California
Phone: 925-785-3118 Cell, 925-785-3118 Text
Founder & President Of BizBen.com (since 1994) & BizBenNetwork.com. I am the Lead Facilitator for the ProSell & ProBuy Programs on both websites. I consult daily with buyers, sellers, and intermediaries daily about buying and selling businesses. Call 925-785-3118.