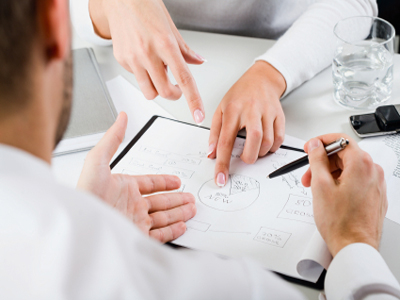 How many attorneys have you seen that have successfully represented themselves in court?

How many doctors have you seen successfully conduct an operation on themselves?

Just as with doctors and lawyers, doing a business review or audit by yourself, in order to save a buck, does not work.

There is an old saying that applies here, "There is nothing more expensive than cheap."

When doing due diligence alone, without any assistance, you're allowing emotions to play a big part, eventually leading to a bad decision. I have actually seen buyers not hire someone to help them entirely because they didn't want to have their dream killed by the truth. Of course, later they wished they had gotten help, because that dream business they imagined in their head turned out to be nothing like the business they purchased.

You can do a large portion of the due diligence yourself, depending on your background, but you should never try to do it solely on your own. Let's go over a few of the reasons:

1. People hire a CPA or other qualified person because they need an expert opinion, and the more experience the expert has (not knowledge, but experience), the more valuable he is to you.
2. Everyone needs someone to bounce ideas off of. And everyone looks at the same information from a different perspective. Life experiences and different educations give us multiple points of view. If you are in a partnership where you and your partners always agree, you have one partner too many.
3. You always end up with a better deal when the final approval is subject to a second person's approval. When I bought businesses for myself, and had my Vice President approve my actions, I always found things about the business that allowed me to make a better deal.
Due Diligence for a small business can cost between $350 to $5,000. If the purchase price is $500,000 that is just one percent of the purchase price. And you're using it to give you some assurance that you are getting what you think you are paying for.
Can you buy any type of business insurance for only 1% of the face on the policy?
Categories: BizBen Blog Contributor, Buying A Business, Deal And Escrow Issues, Due Diligence Issues, How To Buy A Business
Contributor:

Areas Served:
California
Phone: 805-428-2063
Willard Michlin, CPA #106752, offers buyers step by step training & assistance in doing Due Diligence Services when they are thinking of making an offer, or are in process of investigating a business purchase. He helps to determine the actual net profit even when there is cash. Call 805-428-2063.
Comments Regarding This Blog Post
As a broker, my advice to any client that has a question in regards to lease or books and records is that they should consult a lawyer or an accountant, especially if they are questions that are outside my level of expertise. As a broker, I facilitate the introductions to bother buyer and seller, and guide them a little with regards to which documents may want to be seen, but I'm careful that I don't get too involved, because I don't want it to look like I am putting my thumb on the scale. I can only represent what I am being told to by the seller.

Contributor: Due Diligence, Valuations Advisor
Having been on both sides of the due diligence process I find myself in agreement with all that has been previously written here, but would like to add a few observations of my own.
1) The buyer must have a realistic approach to the process or they are wasting their money paying for due diligence. If you are "in love" with your target acquisition and plan to proceed regardless, you are likely to end up with the wrong end of the win/loose stick.
2) The due diligence process can change the shape of the deal , often the price and terms will change, depending on what is found in the process. Some have to be killed off, be emotionally equipped to deal with that event.
3) First time buyers must have somebody on their side as they move through this process as there are tax and legal considerations that they generally are not in tune with.
4) Don't buy "plaques on the wall". All accountants and attorney's have plaques on the wall but there is a distinct difference in outcomes depending on their experience .There is such a thing as a transaction accountant and transaction attorney. You don't want to be paying for their education.
5) If you are coming from corporate America you may have awesome management skills, but self employment is different.
6) Somebody once said it is a smart man who knows what he does not know.