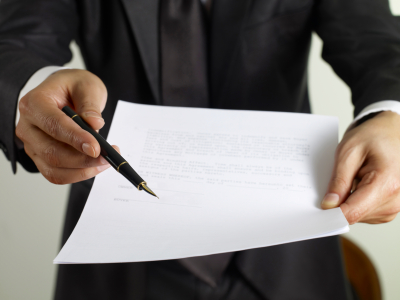 A properly prepared Purchase Agreement is of foremost importance in any business purchase. It should define all terms and conditions of the sale from the biggest items like price, down payment and any seller carry back note. It also should include the smallest of terms such as how many hours per day a seller agrees to train the buyer during the training period after the buyer takes possession of the business.

I have been amazed on how "skinny" some Purchase Agreements were on details that I have seen over the years from co-brokers that I have come across. Many have lacked important details. Should there have been a Covenant Not To Compete, if so what are exact terms of it? Should there have been an assumption of specific equipment leases? If the equipment lease is not assumed through escrow, the Seller can be liable for the balance of the lease payments.

I currently have an escrow where the buyer is assuming 3 equipment leases in addition to the purchase price. The leases add up to almost $5,000 per month for 3 years. Do the math, that's a lot of potential exposure for the Seller.

On the other hand, I have seen some Purchase Agreements used by residential type Brokers on the California Association of Realtors (CAR) form. It is a very comprehensive form, nothing wrong with it, but if not used properly it will tend to alienate sellers and or Listing Brokers. For instance all of the items on the Due Diligence check off part on this form do not apply to all businesses. For instance a restaurant does not keep a list of all its customers. So don't check that box. If the business does not have a web site, don't check the box on transferring the domain name. Some things just don't apply. Most uninformed Brokers check off every box on this form. That immediately tells me of their experience in selling businesses. As a Buyer and a Broker you shouldn't make yourself look foolish. Again understand the business and prepare the proper Purchase Agreement.

Each business is so unique. No 2 are the same. Even in a specific franchise system, no 2 are the same. It is important for the Broker and the Buyer to fully understand the subject business so the Broker can incorporate all the necessary terms and conditions into the Purchase Agreement to protect his client or clients.

Failure to leave out specifics in the Purchase Agreement usually leaves someone exposed. There could have been some verbal understanding but it was not in writing in the Purchase Agreement. I have had instances where a seller does not want to include a certain piece of equipment in the sale and others where art on the wall was not included. Spell it out up front then there will be no misunderstandings. Small understandings can lead to killing a deal, large misunderstandings can lead to lawsuits.
SPELL IT ALL OUT.