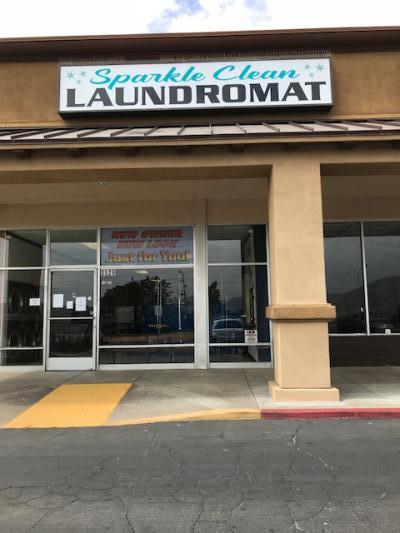 This laundromat is coin operated and has been in continuous operation since 1997. It has a loyal and established clientele. It was beautifully remodeled in June of 2018. It has a well thought out floor plan that has a pleasant, open feeling as you enter. It is the only laundromat in Banning and draws customers from several surrounding cities including Beaumont, Cabazon, White Water, Palm Springs, Desert Hot Springs and some from even as far away as Idyllwild, Yucca Valley, Joshua Tree and 29 Palms.
It is located in the Stagecoach Plaza shopping center at the corner of Sunset Avenue and West Ramsey Street. Sunset Avenue is a major off-ramp from the Interstate 10 Freeway which allows quick and easy access from these distant towns. Stagecoach Plaza is the major shopping center for Banning and is anchored by Rio Rancho Market, and three national tenants, Harbor Freight, Dollar Tree and AutoZone.
It has ample parking that can accommodate large RVs and even Semi trucks. Everyone can find us on Google maps, Yelp and Waze.
Improvements Made
The current owner has invested heavily in remodeling and upgrading the laundromat. Here is a list of the improvement made:
* Two new roof mounted Evaporative Coolers for the warm summer days
* Two Stainless Steel Diffusers for the Evaporative Coolers
* New flooring
* Beautiful Stainless Steel bulkhead caps
* Two new expanded steel benches
* Four new Formica folding tables
* Beautiful new and tasteful building sign with energy saving LED lights
* Bright new energy efficient LED lighting throughout the entire laundromat
* New toilet and lavatory in remodeled restroom
* Newly installed high capacity, Tankless Water Heating system
* 3 New Dexter 60# machines, 4 New Dexter 40# machines and 4 New Dexter 30# machines
* New plumbing installed for all new washing machines
* New Standard Bill changer which dispenses 3, $5 Bills along with 20 quarters for $20 bills, One $5 bill and 20 quarters for $10 bills, 20 quarters for $5 bills and 4 quarters for $1 bills.
* New Amcrest View camera system with 10 cameras for continuous surveillance of the laundromat
* Up to date interior and entry signage with instructions for using the machines and the laundromat rules.
The laundromat was in a state of disrepair and neglect when the current owner purchased the business at this location and has seen the gross income grow substantially since June of 2018. This revenue growth should continue as long as the new owner continues the management policies of the current owner
Retail Lease Terms
The current owner negotiated a great lease. The common area maintenance portion of the lease payment includes the building maintenance and the taxes and insurance. Building portion of the lease payment is fixed for 10 years. There is over 9 years remaining on this lease and there is a 5 year option with a slight increase that is again fixed for 5 years. The lease currently is only 18% of the gross revenues, well below the norm.
Financing is Available for Qualified Buyers
Financing is available to a qualified buyer with as little as 30% down. Interest rates of 8% to 8.5% and a 5 to 7 year term. (These rates and terms are based upon the credit worthiness and financial strength of the borrower.)
Summary and Contact
The owner will train a new owner/manager and share the contacts necessary for repairs and maintenance. Sparkle Clean Laundromat is a well-managed, well-maintained and Pride of Ownership property. The seller has good books and records. This is a must see!
This information is provided by the seller; they are projections and are not guaranteed. You or your adviser should verify this information as needed and reach your own independent conclusion. This laundromat is subject to prior sale or withdrawal from the market.