SBA approved 75% loan of $971,250 for 10 years on the purchase of the business or 85% loan of $2,541,500 for 25 years on purchase of the business and Real Property combined. The business is priced at $1,295,000 and the real property is priced at $1,695,000. Premier commercial printer servicing a wide range of businesses, brokers, printers, designers, educational, governmental and nonprofit organizations providing one through full color offset printing as well as digital color solutions, graphic design, pre-press and complete bindery capability with state-of-the-art equipment and experienced personnel. Full solar rooftop system provides electrical power.
The listing # 233772 Printing Company With Real Estate - Contra Costa County below is currently OFF THE MARKET due to that it is either in escrow at this time or has recently been sold.
For more businesses for sale that are like this Printing Company With Real Estate in Contra Costa County please see a sample of BizBen active listings below and links to all similar listings on BizBen.com.

Wanted:
Sign Printing Digital Graphics Shop - San Francisco Bay Area
Posting #: 249743
Status: Active
Refreshed: 10/22/2019
Contact: Tim Cunha
Phone: 650-600-3751
Phone: 844-237-6487
Wanted: large format graphics/sign shop, or commercial printer. Ideally sales from $250K to just over $1M/year, with diverse recurring customer base. Profitable, competent staff, good reputation, & sustainable location. Buyer owns Bay Area graphics businesses. Flexible/creative 'win-win' terms.



Available:
Print Broker - San Francisco County
Posting #: 240475
Status: Active
Refreshed: 11/19/2019
Contact: Francisco S.
Phone: 415-227-4411 X301
Phone: 415-930-4150
Price: $155,000
Adj Net: $47,208
Down: Call
Well-established home-based Print Broker provides clients with a one-stop, one-step source for all their visual communication needs. They handle every aspect of the print planning and production process from pre-press to final delivery so you can avoid the headaches. Business can be relocated.



Available:
Commercial Digital Printing Service - San Francisco County
Posting #: 254240
Status: Active
Refreshed: 11/19/2019
Contact: Francisco S.
Phone: 415-227-4411 X301
Phone: 415-930-4662
Price: $2,100,000
Adj Net: $713,205
Down: $420,000
Absentee ownership! Business with experienced management has optimized its resources towards market trends of automated workflow technologies and marketing automation services that take advantage of digital printing. With management and staff in place, the business has grown the last three years.


Available:
Embroidery, Printing Company - Los Angeles County
Posting #: 258693
Status: Active
Refreshed: 11/16/2019
Contact: Ved Sajnani
Phone: 714-904-8457
Phone: None Given
Price: $650,000
Adj Net: $275,000
Down: Call
Good books & records. This is Los Angeles's leading Embroidery & Printing company established and under same owner for last 16 yrs. Large format printing capability. Full color digital sublimation. Table covers, banners, flags, custom curtains, POP signs etc. Wide variety of custom embroidered items


Available:
Commercial Sign Company - San Diego County
Posting #: 250143
Status: Active
Refreshed: 11/3/2019
Contact: Spencer Sigoda
Phone: 619-905-9552
Phone: 858-578-4111
Price: $139,000
Adj Net: $71,508
Down: Call
Commercial Sign Company provides a vast array of outdoor & indoor architectural signage, vehicle graphics, logo design & has been providing signs & services to businesses throughout San Diego for over 10 years. This profitable sign shop specializes in providing high-quality storefront lighted signs.



Available:
Sign, Graphics Service - Home Based - San Joaquin County
Posting #: 253559
Status: Active
Refreshed: 11/19/2019
Contact: Ron M. Centers
Phone: 877-832-6494
Phone: None Given
Price: $59,900
Adj Net: $31,228
Down: $59,900
This home-based business specializes in traditional cut vinyl lettering and graphics for signs, banners, windows, and vehicles. They also offer personalized rhinestone embellished t-shirts, hats, and sweatshirts. Local customer base is approximately 50% Business to Business, 25% Schools, and 25%



Available:
Printing Company - Yuba City, Sutter County
Posting #: 258776
Status: Active
Refreshed: 11/19/2019
Contact: Dale Eyeler
Phone: 530-713-4757
Phone: None Given
Price: $395,000
Adj Net: Call
Down: Call
A leading print shop that has been servicing Yuba and Sutter Counties since 1977. This business offers complete design, printing, signage and mailing services. The present owner (since 2002) is ready to retire. This is your chance to operate a truly B2B company. Real Estate available for purchase.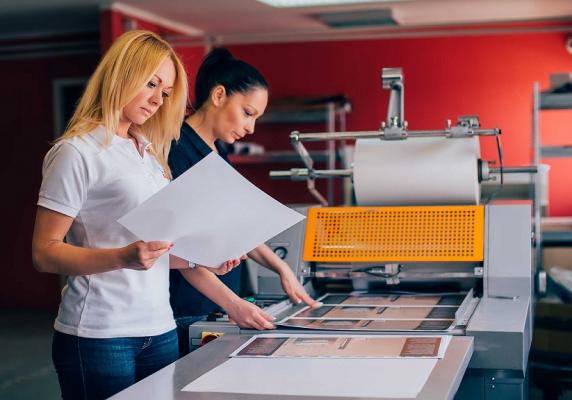 Available:
Print And Copy Shop - Los Angeles County
Posting #: 258463
Status: Active
Refreshed: 11/7/2019
Contact: Ethan Skugrud
Phone: 949-346-5069
Phone: None Given
Price: $135,000
Adj Net: $96,072
Down: Call
Well established Print and Copy Center located directly across the street from a large State University. Great foot traffic with surrounding eateries and an Anchor Convenience Store. Motivated Seller looking to retire and leaves huge upside for new ownership innovation to add modern product offering



Available:
Print Sign Shop - San Fernando Valley
Posting #: 255333
Status: Active
Refreshed: 11/7/2019
Contact: Mark Tzalka - TSI
Phone: 818-761-8000
Phone: 818-758-9090
Price: $119,000
Adj Net: $60,000+
Down: Call
Well established Print Shop with a great variety of services offered, since 1993 located in a local shopping center on Ventura Blvd. Very well-known in the area. Great foot traffic center.Surrounding eateries as well as lots of business from the entertainment industry. Owner must retire.



Available:
Garment Printing Company - Los Angeles
Posting #: 254645
Status: Active
Refreshed: 12/4/2019
Contact: Jonathan Hwang
Phone: 562-402-2686
Phone: 714-510-0248
Price: $129,000
Adj Net: $60,000
Down: $129,000
Garment printing company located in east los angeles, full line of equipment, fixtures including custom screen printing system, embroidery, custom heat transfers, laser cutting, sublimation. Business is mostly run by employees! Financials shared only to qualified buyers.


View All Businesses, Opportunities, And Franchises For Sale And Wanted In These Cities:
Tracy
,
Yuba City
See All Related Business For Sale & Wanted Listings Recently Added:
See More Related Information - For Buying And Selling Businesses:
Helpful Resources To Assist In Selling And Buying California Businesses

AJ Rana - Business Broker, San Francisco Bay Area
Professionals who understand the importance of world class business brokerage service and the value it can create. Specializing in assisting sellers and buyers with retail stores, restaurants, hospitality & lodging, manufacturing operations, distribution companies, e-commerce and service businesses.
Peter Siegel, MBA, BizBen Founder, ProBuy, ProSell Programs
Founder & President Of BizBen.com (since 1994) & BizBenNetwork.com. I am the Lead Facilitator for the ProSell & ProBuy Programs on both websites. I consult daily with buyers, sellers, and intermediaries daily about buying and selling businesses. Call 925-785-3118.
Timothy Cunha JD, Business Broker: SF Bay Area
SF Bay Area experienced attorney, & business broker. I & my EvergreenGold team offer owners sound advice & expertise to build business value & achieve profitable sales. Call today for a FREE business evaluation & SWOT analysis for your business. Call me direct at 650-600-3751, 650-866-5393 Text.
Rob Hartman: Business Broker, SF Bay Area
Business brokerage services in the SF Bay Area. I bring skill, integrity and energy to all of my clients & our projects. I'm accustomed to working with a wide variety of clients and their businesses; large or small, simple or highly complex. Free consult. Contact me at 650-279-3097 Cell/Text.
Michael Floorman, Business Brokerage, BTI, San Francisco Bay Area
Business Team, San Jose (Campbell) located in the Pruneyard Towers at Bascom and Hamilton. Established in 1981 Business Team with over 6600 sales to date has 1000 business listings to choose from, paid Google advertising. We offer highly trained and experienced professionals.
Janet Carrera: Escrow & Bulk Sale Service - SF Bay Area
Redwood Escrow Services, Inc. is a full service, licensed independent escrow company. We are EAFC Fidelity bonded, fully insured & licensed with the Department of Corporations. Committed to offering our clients the most comprehensive variety of escrow services available. Phone Janet at 510-247-0741.
Related Articles, Events, Blog Posts, Discussions, Videos, Interviews

Buying A Business: Why Is It Important To Look At Its Tax Filings?
Business tax filings are very important factor in determining the credibility of business financials. Just seeing those financials, you can't determine whether those values are overstated or not. Some business owners provide made up financials to buyers - so, that's where tax fillings come in.
Thinking About Selling A Small Business? Know These 8 Factors That Matter
The likelihood of selling a business is often determined by external factors in the marketplace. Here are eight influences on how easy, or difficult it might be when selling a small California business. Peter Siegel at 925-785-3118 (BizBen ProSell Program) explains these factors for owner/sellers.
What Should I Do If Other Buyers Are Trying To Buy The Same Business As Me?
Buying a small business is hard enough when there is no competition, so how might a buyer navigate the process when there is additional competition from other buyers? Potential small business buyers are offered a few key ways that a buyer can beat out other potential business buyers in this article.
Is There Such A Thing As Paying Too Little When Buying A Small Business?
We all understand the idea of paying too much for a small business. But is there such a thing as not paying enough? That seems like an odd notion, but I'm familiar with situations in which a buyer acquired a small business for a figure substantially under what probably was market value.
Tips For Faster SBA Loan Approvals For California Small Business Purchases
In this article on BizBen, business purchase financing advisor and SBA loan broker, consultant Peter Siegel (Business Purchase Financing Expert/Advisor & the ProBuy Program Director at BizBen) at 925-785-3118 shares his views of getting SBA loan financing faster for business purchase financing.