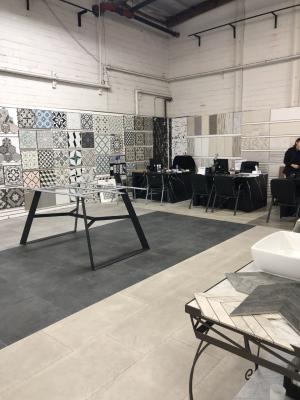 The well-established and highly profitable company has grown every year since inception, has 3 locations servicing end users, developers, designers, investors and builders in the western united states.
the company has the sole exclusive rights of distribution of national and international product lines in tiles, stone, wood, and wallpaper for the west coast region.
the distribution /wholesale amounts to over 200 accounts, just one of the accounts is dal-tile which is nationally presented, and our tiles are shown in all their showrooms.
offering unique specialty tiles, stones, wood and wallpaper with exclusive rights to distribute imported from italy, spain and other parts of the world.
the company also has a professional team that handles fabrication of slabs in natural stone, quartz glass, porcelain, marbles and more...
there are being offered many more complementing specialty products like shower doors, setting materials, drains for showers, cabinets and much more.
the exclusive international brands' representation enables them to be the go-to supplier to big brand names in southern california like ucla and beverly hills hotels.
the exceptional customer service and professional staff are just two more reasons for growth year over year.
the company supplies small and big projects domestically and internationally, their products are being shipped to japan, korea, philippines, hawaii and many more destinations.
The company is being approached periodically by local and international suppliers, expressing interest to be represented because of business relationships and reputation.
With the unique information storage system and the proper use of it, the business is functioning independently with minimal principal's interference.
The national and international growth is a given with the current structure of the business.