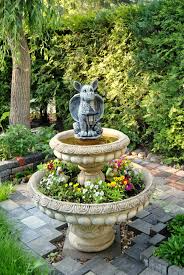 An Attractive Acquisition for Landscape Oriented Companies and Garden Enthusiasts
For nearly 20 years this distinctive landscape design company has beautified the gardens of many of the area's finest homes from Malibu-to-Santa Barbara, east into the San Fernando Valley, north to Santa Clarita. Offering unique high quality fountains, statuary's and exceptional American made concrete pottery at discount prices has made the showroom a favorite resource for customers ranging from landscape designers, architects, contractors, landscape co.'s and homeowners. The showroom has frequently been highlighted in many local magazine publications, who referred to it as the gardener's oasis.
Many of the stores clients have been active customers for many years. Frequently, as old customers either upsize or downsize into new homes, they will return to the store to once again turn their gardens into the retreat they left behind at their last home. Customers have learned that unlike furniture, these products will add significant and lasting value to their homes. The Southern California climate makes this a 365-day a year business as Californians consider the outside of their homes equally or even more important than the inside.
The business provides cost effective available delivery, installation and maintenance of the large items. The owner has used the same highly trusted independent delivery team for nearly 20-years, making it an integral part of the business and a hallmark of its lasting success. The outside service makes all the customer installs and charges the client independently. This eliminates much of the payroll issues that the business would otherwise incur. This same team assets in the unloading of new items to the showroom.
In addition to the traditional garden fountains & pottery, the store also offers an array of unique wonderful gift-shop accessories that perfectly fit the garden theme of the showroom. These high profit items bring the customers back frequently, often leading a larger ticket purchase.
The owner purchased a home out of state several years ago and is preparing to retire and relocate. She already spends roughly 1/3 of her time away from the business. Owner has developed a strong backup sales clerk who does well in her absence and would be willing to work full time, year round if desired.
Owner will make herself available for a reasonable transition period. The business generates a provable $500,000 in revenue and $135,000 in net profit, and has grown revenue in each of the past few years. The Seller is highly motivated and therefore has priced the business attractively.
Existing landscape companies would likely find significant cross selling opportunities, thereby enhancing the enhancing the revenues of both businesses.