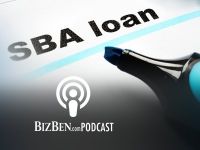 SBA 7a Loan Updates, Trends, Strategies: Business Purchase Financing Tips
Posted By:
Peter Siegel MBA: BizBen Founder, Lead Advisor
. In this BizBen Podcast Session Peter Siegel MBA (Host) chats with Steve Colburn, SBA Loan Advisor/Officer about all things SBA 7a loans related to small to mid-sized business purchase financing. We discuss new SBA loan program features, incentives, strategies & tips when it comes to SBA loans.