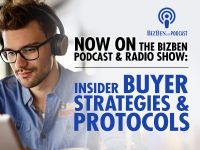 Buying A Small Business: Insider Business Buyer Strategies And Protocols
Posted By:
Peter Siegel MBA: BizBen Founder, Lead Advisor
. Buying a small business is an often arduous process at best. Peter Siegel with BizBen.com shares his strategies on this Podcast with Brian Loring who asks all the current and essential questions successful business buyers tend to ask and get answered before buying a small to mid-sized business.