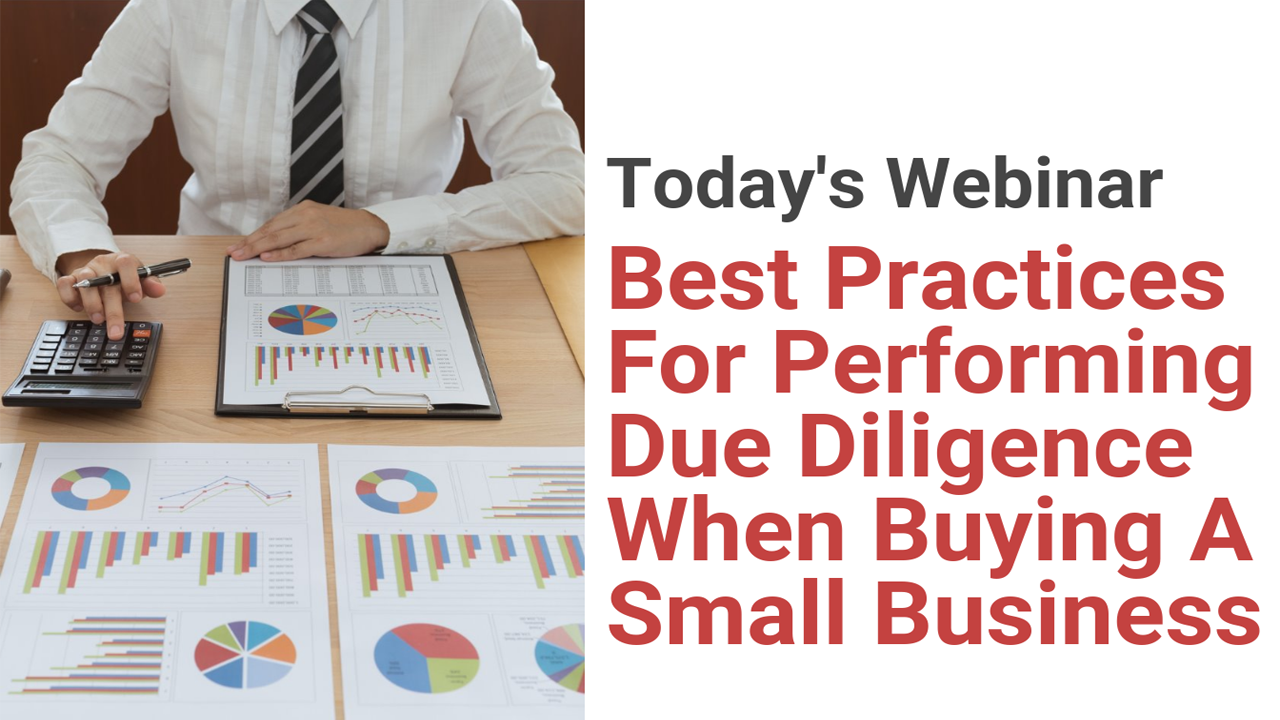 BizBen President Peter Siegel, MBA hosts this informative webinar about how to perform due diligence when buying a business. When buying a small business, it is critical that you first investigate the business in order to ensure that you are actually purchasing a business you know will succeed!

Presenter: Peter Siegel, MBA - BizBen Founder (ProBuy, ProSell Programs) at 866-270-6278

Cost: FREE

Upcoming Webinar Days & Times: Tuesday June 2, 2020 11AM PDT, Thursday June 4, 2020 8AM PDT, Saturday June 6, 2020 4PM PDT, Sunday June 7, 2020 1PM PDT

Can't Join Us At Any Of These Dates & Times? Click Here To Play A Recent Past Webinar Now!

Instructions For Attending This FREE Webinar: Simply come back to this page on a day and time above and the webinar will be playing on this page above! No special links, no registration, no downloading any software, just come back to this page at a date and time listed above.

Webinar Outline - What You Will Learn In This Informative FREE Webinar:
What Due Diligence Is And How It's Done
Financial Due Diligence - Arguably The Most Important Part Of The Process To Most Business Buyers
Legal Due Diligence - Assessing Risk And Possibilities Of Lawsuits
Operational Due Diligence - Business Model, Competition, Market
Product/Service Due Diligence - What The Business Provides Their Customers
Human Capital Due Diligence - Employees, Salaries, Benefits
MORE RESOURCES FOR VIEWERS OF THIS WEBINAR

Online Discussions Regarding Due Diligence:
https://www.bizben.com/discussions/topics/due-diligence.php
Articles & Blog Posts Related To Due Diligence:
https://www.bizben.com/blog/category/due-diligence-issues.php
Due Diligence Professionals & Resources:
https://www.bizben.com/business-resources/due-diligence-services.php
Specialty Business Brokers - By Industry - For Assistance In Due Diligence:
https://www.bizben.com/business-brokers/california-specialty-business-brokers.php
Consultants & Advisors - Assistance With Due Diligence:
https://www.bizben.com/business-resources/consultants.php

About The Presenter: Peter Siegel, MBA is the Founder And Administrator of BizBen.com (established over 25 years!) and is a Business Purchase Financing expert (SBA and Non-SBA financing) - see BizBuyFinancing.com. He consults daily with California business buyers, owner/sellers, business brokers, and agents regarding buying and selling California small businesses. Call him today regarding advice on finding, buying, selling, financing a business purchase/getting pre-qualified (ask about the BizBen ProBuy and ProSell Programs for business buyers and owner/sellers, and brokers). He'll also give you referrals to the best resources on buying and selling businesses, brokers, etc and a FREE copy of his eBooks "How To Find And Buy A California Business Successfully" or "Valuing And Selling A California Business Successfully" with any personal consultation/service. Peter Can be reached direct at 866-270-6278 (if you get voicemail please leave some good times to reach you and a detailed message - thanks).