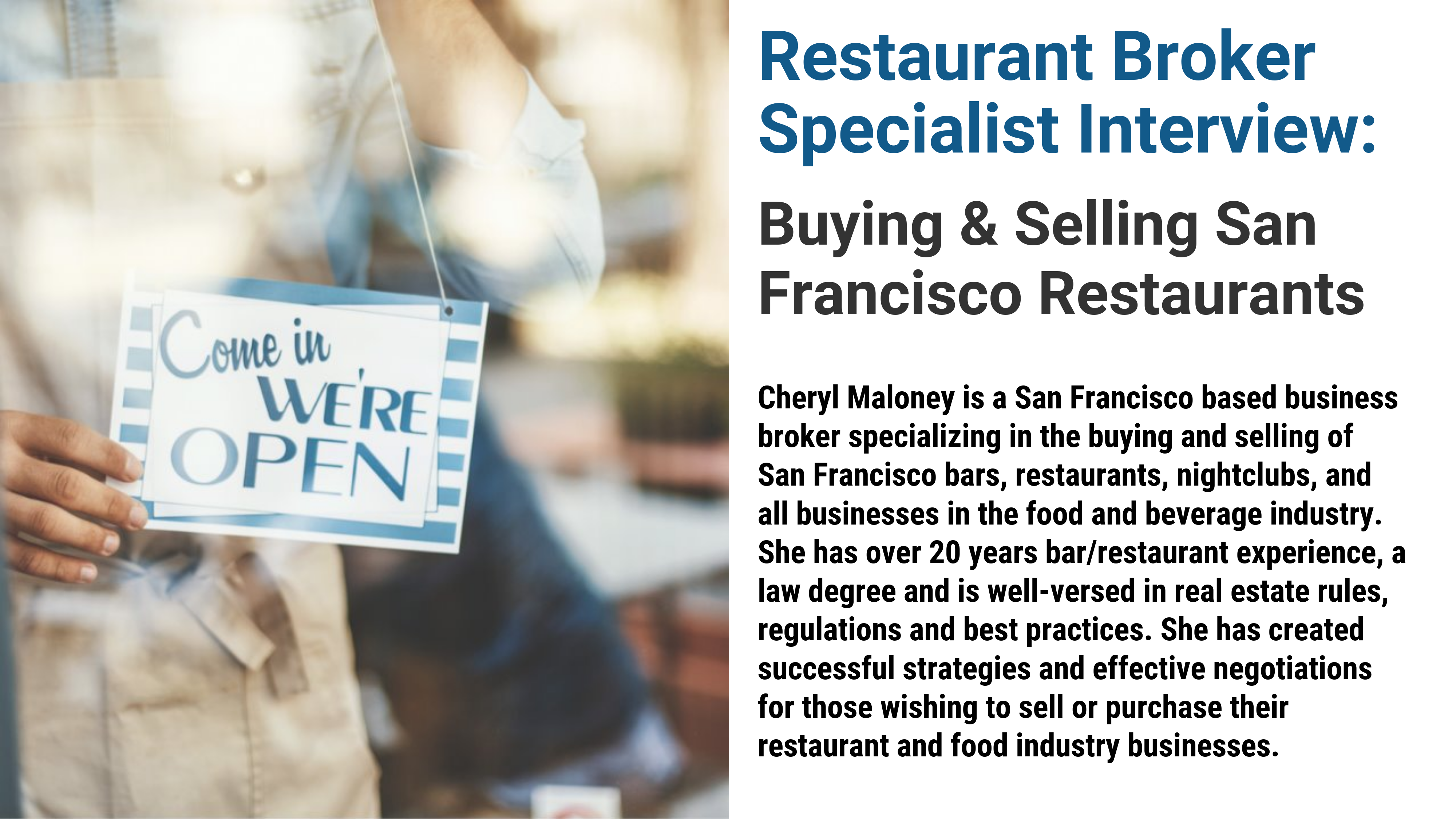 This informative 40 minute interview/webinar about buying & selling restaurants in San Francisco with restaurant broker specialist Cheryl Maloney is a real eye opener for restaurant buyers and sellers. Cheryl gives great advice to both buyers and sellers from her years of experience in the restaurant and hospitality industry.
Webinar / Interviewer Hosts:

Cheryl Maloney - Restaurant Broker Specialist in San Francisco at 415-309-2722 Cell

Peter Siegel, MBA - BizBen & BizBuyFinancing Founder & Director at 866-270-6278
Cost: FREE
Upcoming Webinar Days & Times: Saturday August 8, 2020 2PM PDT, Monday August 10, 2020 8PM PDT, Wednesday August 12, 2020 11AM PDT, Saturday August 15, 2020 2PM PDT
Can't Join Us At Any Of These Dates & Times? Click Here To Play A Recent Past Webinar Now!
(Inflexus)
Instructions For Attending This FREE Webinar: Simply come back to this page on a day and time above and the webinar will be playing on this page above! No special links, no registration, no downloading any software, just come back to this page at a date and time listed above.
Webinar Outline - What You Will Learn In This Informative Session:
* The Most Popular Types Of Restaurants That Buyers Want To Purchase At This Time
* Escrow, Confidentiality, Seller Financing, And Deal Structure Issues
* Liquor Licensing - Types, Timing, Tips For Restaurant Buyers
* Listing Agreements For Restaurant Sellers / Dealing With Business Brokers
* Top Restaurant Buyer Mistakes When Purchasing A Small To Mid-Sized Restaurant
* Top Seller Mistakes When Selling A Restaurant Business
More Info & Links For Restaurant Buyers And Sellers:
SBA & Non SBA Financing: Financing A Small Business Restaurant Purchase

https://www.bizben.com/business-resources/business-purchase-financing-specialists-35703.php

All Articles, Blog Posts, Discussions Relating Buying, Selling, Valuing A Small To Mid-Sized California Restaurant

https://www.bizben.com/related-info/restaurants-food-business-for-sale-category-california-ca.php


About Cheryl Maloney (San Francisco Restaurant Specialist) & Peter Siegel, MBA:
Cheryl Maloney is a San Francisco Business Broker with over 20 years bar/restaurant experience, and a law degree she's well-versed in real estate rules, regulations and best practices. She works tirelessly to create successful strategies and effective negotiations for those wishing to sell or purchase a business. Cheryl can be reached direct at 415-309-2722 Cell
Peter Siegel, MBA is the Founder And Administrator of BizBen.com (established over 25 years!) and is a Business Purchase Financing expert (SBA and Non-SBA financing) - see BizBuyFinancing.com. He consults daily with California business buyers, owner/sellers, business brokers, and agents regarding buying and selling California small businesses. Call him today regarding advice on finding, buying, selling, financing a business purchase/getting pre-qualified (ask about the BizBen ProBuy and ProSell Programs for business buyers and owner/sellers, and brokers). He'll also give you referrals to the best resources on buying and selling businesses, brokers, etc and a FREE copy of his eBooks "How To Find And Buy A California Business Successfully" or "Valuing And Selling A California Business Successfully" with any personal consultation/service. Peter Can be reached direct at 866-270-6278 (if you get voicemail please leave some good times to reach you and a detailed message - thanks).