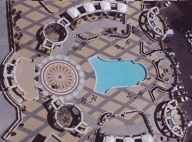 Specialized concrete contractor with an unparalleled reputation for quality concrete and masonry construction and restoration. Serving all of southern california since the early 90's. Expertise in decorative concrete flatwork and hardscape, with full service concrete and masonry contracting, restoration and repair. A wide variety of services for commercial, residential, public and private customers. With a passion for exceeding the expectations of its customers, they have the ability to meet the needs of the client on just about any level. Contractor of choice within the concrete construction industry. Services include concrete stamping, pavers, etching, coating and overlays, staining and cleaning and sealing. The company has the expertise for site concrete, decorative architectural concrete, masonry, structural concrete and concrete repair and restoration. A proprietary product for refinishing concrete is an added value. The company has a wide range of experience in both commercial and residential projects. The company excels in understanding the difference between building a house and building a home. Working closely with the home owner and design professionals insures the highest quality work and product. The commercial department has completed hundreds of commercial projects and knows the importance of superior quality work.
In addition, as a general contractor they can coordinate the entire construction process from start to finish working closely with the design team, architects, engineers and the many other stakeholders in a project. The business can perform much of the work with their own crews including of course all the concrete work.
Revenue over the last three years has been consistent with 2017 reaching just over $3,100,000 with no advertising or marketing. Adjusted net of $297,672. Asking price is $735,000 with over $200,000 in fixed assets. Sba possible.