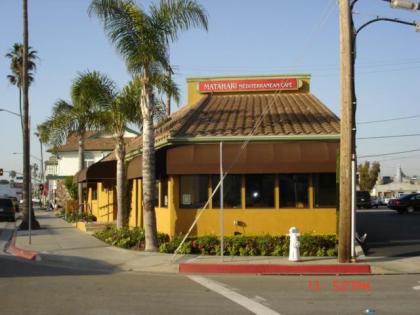 Located in the Charming Cannery Village Area of the Balboa Pennisula. One of the wealthiest neighborhoods in the United States. Free standing corner restaurant Highly visible with heavy concentration of vehicle and pedestrian traffic both day and evening. Neighborhood consists of high end residences, offices, retail businesses, hair salons, fitness studios, city hall and nearby hospital. Ocean view from dining room, walk two blocks to the beach or harbor.
Fully equipped kitchen with hood, walk-in refrigeration, stainless sinks, chef's line, warmers etc...It would cost much more to build this kitchen from scratch. Upstairs Manager's office furnished with full bathroom including a shower and multiple storage rooms.
Restaurant is turn key and tastefully renovated. Interior features authentic limestone flooring and a charming decor. Formerly sushi with sushi counter still in place. Can be changed to any concept or back to sushi for ten years. Area suitable for Fresh Seafood Fish Market, Bakery, Delicatessen, Sushi, Chinese, Italian, Gourmet Pizza etc.... Currently has a 41 Beer and Wine. Live Entertainment Permit for up to three persons.
Parking available for 30 cars. This is the BEST location in the coastal area of Orange County.
Landlord requires tenant with previous restaurant ownership experience and sufficient cash on hand for operating expenses. New lease with be negotiated based on market rent.
Must see to appreciate. Please submit all offers along with credit report, complete financials. and NDA. Price for business only does not include real estate.
Key Words: newport beach, orange county, fsbo, for sale by owner, balboa, balboa island, cafe, restaurant, bistro, burger, sushi, chinese, japanese, vietnamese, seafood, fish, french, pizza, italian, casual, quick service, fine dining, beer, wine, pasta, pastries, bakery, pizza, quick serve, full service, fine dining,mediterranean,.