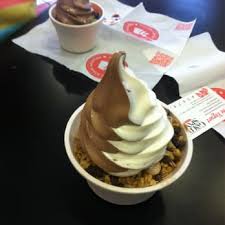 Gelato, Frozen Yogurt and Cold Brew Coffee in Carlsbad, CA. Sweet opportunity for local family to operate their own neighborhood business. Self-serve concept and top-quality product with options for the health conscious. Not a franchise but established chain brand offering license to operate.
Sellers have focused on a turnaround effort and their teenagers gained good work experience before college. Store is clean, updated, equipment consistently maintained - it is successfully attracting new repeat customers. It's a solid location near theaters, shopping and dense residential communities with schools near-by. Major brand fast casual restaurant going in adjacent. There is room to grow with increased marketing and menu diversification. For example, seller has just added cold brew coffee. The center does not currently have another coffee shop and there is flexibility to add to the current concept.
This is an asset sale. Limited financial information is available.
1400 sq. ft. store with customer and prep area, office and restroom, some outdoor seating - $5,633/month. 7 fully operational self-serve Taylor Freezers. 1 fully and 6 partially operational freezers available for back up and parts.
Annual revenue about $210,000. Making a little money for absentee owner fully staffed with 6-8 part time employees and payroll average about $4,000 per month. Owner operator could replace some of the payroll for improved earnings. Asset Sale.