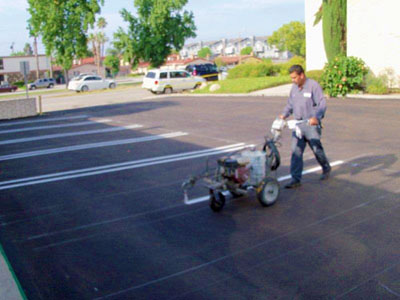 Semi-absentee owner. Good books and records. SBA loan pre-qualified. Annual revenue of $762K, growing annually. Owner is retiring. Equipment list available to qualified buyers. The real estate with this business is also available for sale for $950K. Buyers could live on the property as well.
The company was founded in 1976 and became a C-32 California Licensed Contractor on April 18, 1978. The Company has earned a reputation for high quality workmanship as well as excellent service and a high level of integrity in its business practices. The Company offers complete services in pavement marking, paving, seal coating, pre-cast concrete bumpers and indoor safety lines and specializes in providing those services for parking lots, warehouses and parking garages.
PRODUCTS & SERVICES
The Company offers a multitude of services, including but not limited to:
* Asphalt Repair
* Paving
* Asphalt Speed Bumps
* Petromat Overlays
* Handicap per ADA
* Potholes
* Handicap Ramps
* Precast Wheel Stops
* Overlay
* Seal Coating
* Parking Lot Striping
* Signs
HOURS OF OPERATIONS
The standard office hours of the Company are Monday through Friday from 8:00 am to 4:30 pm. The field workers typically work from 5:00 a.m. to 2:00 p.m.
BUSINESS FACILITY
The Company currently operates from a 1,127 square foot office space. The Seller owns the building and lot as well as the adjacent parking lot. Total square footage of the combined lots is 13,978. The real estate may be available for acquisition, depending on the buyer's qualifications and desires; however, the business is easily relocatable since work on all jobs is performed at client locations.
OPPORTUNITIES
There are multiple opportunities for expansion of the Company's services. The Company does not currently bid on any prevailing wage work and limits itself to parking structures, parking lots and warehouses. There is opportunity for involvement in street maintenance and other prevailing wage work. Furthermore, the Company is a great acquisition for a contractor that currently offers synergistic construction services.
New technology could also present new opportunities. New equipment and asphalt design technology are improving road maintenance. One-person pothole patchers and ground penetrating radar (GPR) that can scan subsurface road conditions to depths of nearly three feet at normal highway speeds are some of the attempts to apply new technology. Superpave is a mixing system that allows designers to precisely specify proportions of various ingredients (including various grades of liquid asphalt cement) to produce a road surface with particular characteristics and is designed to extend the life of the pavement. Quick-drying cement can harden within hours instead of several days, greatly reducing highway and street construction time. Due to quick-drying concrete, daytime lanes do not have to be closed resulting in fewer commuter complaints.
GROWTH POTENTIAL
The Company believes there is substantial growth potential by increasing the workers' salaries to be consistent with union scale and by pursuing and engaging in prevailing wage work as discussed in the Opportunities section previously. Additionally, the Company would benefit from a full-time estimator and could grow simply by accepting new business which the current owner declines due to his decision to to scale down the business staff, equipment and vehicles in order to facilitate and maintain a semi-retirement status.
REAL ESTATE INFO (AVAILABLE AS WELL)
Absolutely fabulous live-work/home office or development site. The sale consists of two contiguous lots totaling just under 14,000 sq ft of commercial zoning, C2AZ. One lot has a beautiful free standing, 1,172 sq ft office with a fully enclosed vehicle/equipment yard in the rear. The office features a large open space in the front, small office in the middle that can double as a bedroom, beautiful rest room with shower stall, and the kitchenette and dining area in the rear. The adjacent parking lot is fully paved and striped, ideal for additional vehicle parking/storage. The zoning appears to allow for mixed use development or perhaps town homes, as was recently built on virtually an identical property 2 doors away. Both lots are street to rear alley making both development and access to the property very easy. Ideal for an owner/user contractor who may have equipment or large vehicle storage needs. Just a few blocks from the 210 freeway, making access to anywhere in the San Gabriel Valley and Los Angeles an easy, quick drive. The area is booming with new construction and upscale development.