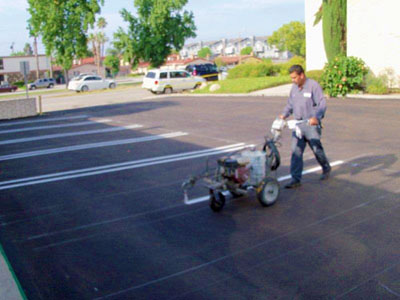 Established in 1978, this Patch, Seal & Striping company (parking lot maintenance services) has maintained great reputation by providing quality work to its clients. The company enjoys a goodwill of repeat customers that keep the company busy without any advertising or bidding. Company offers complete services in commercial & industrial parking lot pavement marking, paving, seal coating, etc. The company requires a C32 contractors lic.
The owner, in his retirement age, splits his time 50/50 between his home in Northern California and Southern California, leaving room for the new owner to operate the company on a full-time basis. The company currently sub contracts out some of their jobs due to the owner not being present in the area for about 50% of the year. A new owner has the potential to make a higher profit on the same amount of work, by just performing some of the work themselves and ofcourse potentially grow the company by actiely running the business, bidding on jobs and accepting new work.
The company can be a great fit for someome who is wanting to purchase a business as an individual and grow, or a strategic add-on for an existing company in the general industry. The company has few long term employees and few weekend warriors who are contract workers that company brings on depending on the needs of the project.
GROWTH POTENTIAL : There is substantial income growth potential by: (1.) new owner applying full-time effort and by accepting new business which the current owner declines due to his decision to scale down the business staff, equipment and vehicles in order to facilitate and maintain a semi-retirement status. (2.) Web presence optimization and company identity enhancement (3.) Institute a client re-contact program (4.) maximize business growth by having a full-time estimator to handle increased business (5.) pursuing and engaging in prevailing wage work as discussed in the opportunities section below.
OPPORTUNITIES FOR EXPANSION: The Company does not currently bid on any prevailing wage work and limits itself to parking structures, parking lots and warehouses. There's opportunity for involvement in street and highway maintenance and other prevailing wage work. Furthermore, the Company is a great acquisition for a contractor that currently offers construction services.
FINANCIAL INFORMATION: Good books and records (tax returns, financials, etc). Possible SBA.
REAL ESTATE: Available, please ask for additional details.
* Revenue 2019: $679,434, Net Income: $144,127 (Potentially higher for a strategic buyer)