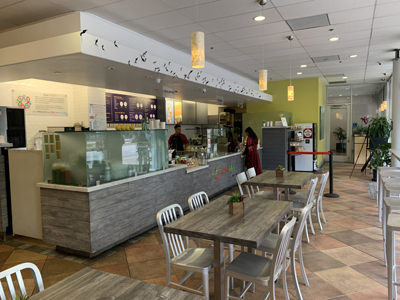 in the heart of Pasadena on Lake Avenue, it is successful and profitable with a gross income of $560,000, adjusted net is $44000 and is derived by adding all compensations and deductions from gross income, selling price is $85,000. Great books and records, highly visibility. Since this is a lifestyle business, it is perfect for owner/operator or family operation. Even through it is a Poke and Tea Bar, it can be converted into some other business since it is located in a highly desirable and safe area, ample of street parking in front, 2 parking lots in back, 1 reserved parking, bike parking, near Cal Tech, Pasadena Playhouse, Pasadena financial district, wide store front exposure on Lake Avenue, ideal location for business in Pasadena, County of Los Angeles.
Monthly rent is $4665, business square footage is 1422, all inventory, furniture, fixtures, equipment and logos all included in sale price which made this a turn key operation, no experience is necessary as seller/owner will train.
Menu consists of Build your own Poke Bowls with handcrafted tea, also serving Asian inspired breads, pastries and desserts. Outdoor seating available. Open 7 days, accepts credit cards, Google/Apple Pay, can be order online using Grub Hub, Eat 24, Door Dash or Uber Eats. Reason for selling is owners has multiple businesses and wanted to retire.