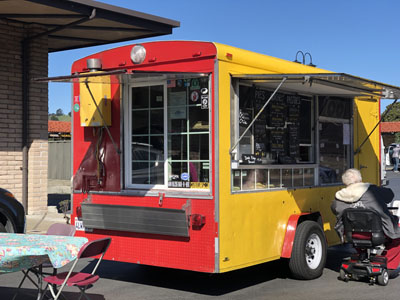 Fully equipped licensed mobile bakery trailer catering to Farmers Markets in the SF bay area. All products baked onsite at the Farmers markets and served hot to the customers. Specialty is Quiche, assorted croissants, pastries pies and cakes. All products prepped at commercial kitchen, then baked at the markets.
Founder and Owner/operator has been in business for over 5 years, running the business solo, no employees. Extremely loyal customer base with most customers returning on a weekly basis. Many customers have been buying products for over 5 years. New customers account for 5-6% steady new growth every year. This is all business generated by customers at Farmers Markets, without participating in any social media at all.
This is mostly a cash business, with about 20% of customers using debit/credit cards. Potential for great increase in sales by hiring employees, or great for a couple who are interested in the culinary arts. Huge potential for new sales by tapping into social media, the tech industry setting and food truck events. Currently, operator only does Farmers Markets.
Great books and records - all revenue and cash flow provable via tax returns and financials. For sale by owner. SBA loan pre-qualified for the right buyer. Growing annual revenues. Annual revenues of $176,227. Annual cash flow of $89,000+. Asking price of $165,000 (Market price valuation completed)
Selling handcrafted bakery products at the farmers markets is very well received by customers looking for 1st class bakery products, hot out of the oven. This is the only mobile bakery in the area, so basically there is no competition. This is a business that can easily be relocated anywhere within this, or another state. Owner is relocating out of state.
Year-round Farmers markets run from 9 am to 1pm. on Saturdays and Sundays and seasonal markets run weekdays from 4 pm. To 8 pm. May thru September. Currently operator is doing year-round Saturdays at the Saratoga Farmers Markets and Sundays at the Moraga Farmers market, and Seasonal markets Wednesday at Los Altos, and Thursdays at Santana Row. There are numerous others markets available to work in the Bay Area. Owner has been working with the California Farmers Market association and they will gladly take on new owner of business.
2019 revenue was $176,183 with net operating income of $74,247. 2019 annual income was $99,353 for owner. 2020 revenues are up 14% over 2019. Business is a C-corp, no employees, no debt, and no real estate involved. Currently the business is licensed by the Dept. of environmental health in Santa Clara County, and approved for operation in Contra Costa County and previously approved in San Mateo county. Buyer will have to get inspection and approval from County of choice and arrange for a commissary or commercial kitchen to work from.
Business sale includes Mobile bakery trailer with propane Moffat oven, propane tankless water heater, refrigeration unit, racks, pans, generator, 3 compartment and handwash sink, all commercial kitchen production equipment not in trailer, including 20 qt. Hobart mixer with slicing and shredder attachment, racks, pans, Hobart Buffalo chopper, transit cabinets, Traulsen 3 door retarder, 3 door refrigerated pizza prep table, refrigerated 3 door work bench, stainless steel shelves, racks, pans, all hand tools and inventory. Total asset value of business is about $40,000. This is a complete turnkey business including customer base, formulas and recipes. 120 hours of hands on training included. Buy today, start making money tomorrow.
This is a very fast paced and fun work environment, dealing directly with customers, making and baking products before and during market hours. Year-round markets (Saturdays and Sundays) require about 30 hours prep work per week and working an additional 2 seasonal markets (from May thru September) is about 70 hours per week, keeping in mind this is based on one person doing all the labor and selling.
Note: This Owner Is Utilizing The BizBen Protocol For Selling His Business & Is A Part Of The BizBen ProSell Program. Contact the owner via phone, text and email above. Thank you.