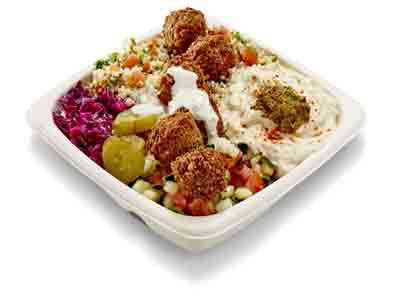 A proven quick service fresh mediterranean restaurant concept called Gotta Eatta Pita with 3 established San Francisco Bay Area locations.
Authentic brand with proprietary packaging provide an edge over competitors.
All food is prepared in each of the individual restaurants and pita bread is baked fresh daily.
Scalable business model with proven unit level economics.
Shareholders are considering a sale of the Company to a strategic buyer.
Why Invest In Gotta Eatta Pita?
1. Recognized for superior food quality with 4.5 star average yelp rating.
2. Simple on-trend menu that appeals to the masses and can be prepared within minutes.
3. Tremendous catering sales with minimal lead time required.
4. Top store sales volume of $1,292,341
5. Established brand with simple and efficient operations
Our Core:
PITA - Hand baked daily with no dairy or preservatives.
DAIRY - Out feta cheese is made with 100% pure sheep milk.
VEGGIES - A portion of our produce is organically grown & we buy locally whenever possible.
CHICKEN - Always fresh, all natural & raised without hormones
FALAFEL - Freshly round with herbs and spices. Great source of protein & fiber.
LOCAL - Proudly established in the East Bay Area!
Why Mediterranean Food is On-Trend:
Over the last few years, healthy food has dominated the national conversation, and restaurants have struggled to keep pace with passing fads. Not long ago, low-carb was all the rage, against the advice of the majority of doctors and experts, who have always advocated a wellbalanced approach to eating.
Mediterranean menus are full of flavorful, healthy choices to satisfy both diners and doctors. The health benefits are well-documented and address some of the most prevalent health problems in the country. With 80 million Baby Boomers aging rapidly, this is the perfect time for the Mediterranean diet to capture and keep the national spotlight.
What is the Mediterranean Diet
The Mediterranean Diet is not a diet per se. It's just a lifestyle. It's the way people eat in Crete, parts of the Middle East, coastal Greece and Southern Italy.
Mediterranean diet recipes primarily rely on:
Plant-based foods. Fruits, vegetables, whole grains, legumes, and nuts are the basis for most dishes and take up most of the plate. Saturated fats such as butter are replaced with healthy fats; olive oil is a staple of the region.
Reduced sodium. In Mediterranean cooking, herbs and spices such as cardamom, mint, and sumac are used to flavor dishes instead of salt.
Less red meat, which means less saturated fat. Typically, red meat is eaten once a week at most. Leaner fish and poultry are eaten at least twice a week.
The Mediterranean diet makes plant-based foods the star of every meal. Typically, people in the Mediterranean region average six or more servings of fruits and vegetables per day. Nuts, seeds, beans, whole grains, and bread (without butter) are part of the daily diet as well. And be sure to keep good red wine in stock;
a glass or two is the perfect accompaniment to an authentic Mediterranean meal.