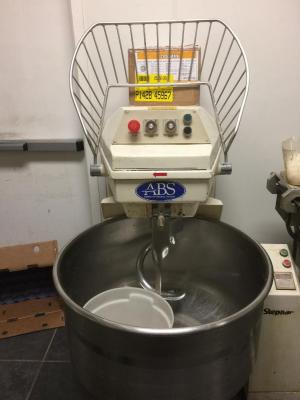 For sale is an on going and profitable little bakery-deli, short order kind of place with a five year lease expiring in 2020 offering one, five year option. The current rent including CAM/NNN is around $5,200. monthly for 1,283 square feet.
There is no hood but there is an inside grease trap and a ceiling ventilation for the included Revent upright oven.
The kitchen has a Nolake walk in cooler, and an Atosa freezer on wheels.
Besides the basics they have a Hobart-Stephan vertical cutter-mixer, a large ABS spiral mixer and a Bevair sandwich prep table. There are two Coke and 7 up company owned coolers located in the front eating area which consists of 5 tables with 10 chairs inside and 2 tables with 4 chairs outside.
The business is located in a outdoor strip type center close to Blackhawk.
There are two working owner-operators with no employees each splitting the net income of approximately $100,000.
The reported gross sales average around $25,000 monthly.
The business is open only Monday thru Saturday with limited hours leaving room for higher income with extending the operating days and hours.
Motivated sellers!
If you go to "take a look", please limit your visit to just that and leave the questions and answers to the listing agent.
Disclaimer: The information has been supplied to the Broker by Seller. Broker expressly disclaims any and all liability for representations of warranties, expressed or implied, contained in such information, or for omissions from them. Broker believes the information to be correct, but has not verified or checked it. Any agreement or decision by buyer to pursue a transaction regarding this business should be based on further investigation by the buyer.