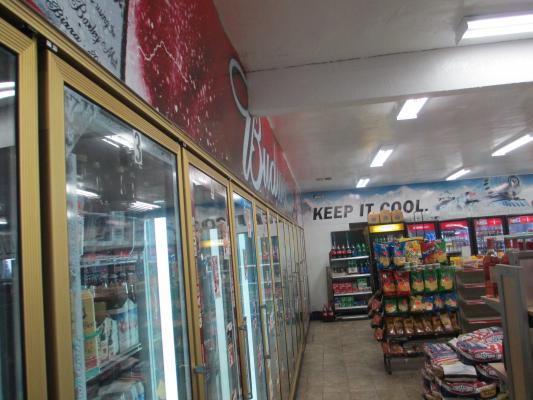 Gas Station for Sale Details:
* This is a neighborhood gas station business with real estate for sale in Modesto, CA - Stanislaus County.
* This business for sale is situated on major road of the town and rural area.
* The station for sale has been established from long time.
* Store sales is up to $55,000 per month estimated with good margin, as per owner nt verified by broker.
* Gasoline sales is upto 15,000 gallons sold per month estimated at good profit margin estimated, as per owner.
* Additional income come from propane exchange sales with high profit of $2 approx. per gallon sold with upto 200 gallons sold per month.
* There is the opportunity for the buyer to bring lotto lottery and check cashing on this location to increase sales.
* This business sale include Type 20 Beer & Wine ABC license. The location has 14 door walk-in cooler for drinks.
* Current Rent be about $3650 per month approx, less compare to other gas station.
* Remaining lease is about 7 years plus 4 years approx.
* Inventory is not included in sale price and sold separately.
* Owner may willing to finance the deal for qualified buyer with mentioned down payment.
* Note: This gas station has single wall three tanks. However, as per owner, the landlord is responsible for replacing such tanks by year 2025.
* Read below "Notice to Buyers" as part of this ad.
To get location, Please SIGN NDA and Call or Email us at discuss.
This is Western Singh Brokers listing.
NOTICE TO BUYERS: This business opportunity and/or real estate is listed by Western Singh Business Brokers ("Broker"). Visitor ("Buyer") understands that Broker or its agent(s) does not audit or verify any and all above mentioned information (not limited to sales, building size, lot size, margins, profits) given to or gathered by Broker or its agent(s) or make any warranty or representation as to its accuracy or completeness, nor in any way guarantee future business performance. Buyer is solely responsible to examine and investigate the Business, its assets, liabilities, financial statements, tax returns, and any other facts which might influence Buyer's purchase decision or the price Buyer is willing to pay. Any decision by Buyer to purchase the Business shall be based solely on Buyer's own investigation and that of Buyer's legal, tax, and other advisers and not that of Broker or its agent(s). Any listing information may change at any time without any notice. Buyer acknowledge that by using this website and inquring about any listings on this website shall not establish any agent and principal relationship between Western Singh Brokers and the Buyer. Western Singh Brokers is or will always be exclusive agent of seller only during any discussions or activities related to any listings on this website.