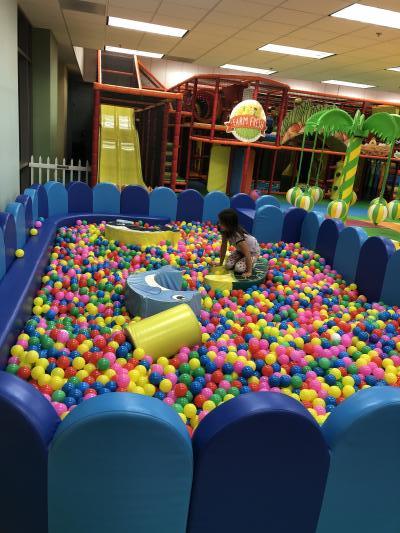 8750 square feet, four-years-old indoor playground, owned by a really professional, business-orientated, and dedicated couple. Their dedication and involvement have laid a solid foundation for this business with great business atmosphere, loyal customers, and experienced and dedicated staff. And all these have created an efficient business operation and will definitely help any new owner to manage the business after transaction. There are many more other great facts about this business which should be on your purchase list.
* located in the center of several cities with ample parking, and close by restaurants and a local community college. Great density of population and close to freeway exit and a really popular sports arena in the local area which periodically hosts sports events and which contributes you with many business exposure and marketing opportunities.
*Has over 30 K registered customers who have become regular and over 400 registered members. There is hardly any need to do any type of advertisement as this business has been built on word of mouth over the years. And it keeps growing. Well-designed website and computerized system make this an excellent turn-key business.
*It is a nice and clean kids play ground and event hosting place, operating 7 days a week and host average 30 parties each month on busy seasons.
* It is highly praised on yelp and Facebook and has established really high reputation and all the equipment is in great condition.
* easily operation, low maintenance, and many business profit avenues.
This playground has multiple doors, baby changing tables in both bathrooms, a storage room, an employee room, and a snack bar which is in the process of permitting for a warm up kitchen. Seller has done the blue print for the new renovation of the warming kitchen before moving out of state. Buyer just needs to carry it on to make much profit (it can generate you about $500-$2000 revenue on daily basis).
Seller also has invested thousands of dollars on party character costumes and accessories and this will add much business profits. Seller has brought this business to a new level and has to sell as relocation of husband's job. New owner just needs to grow this business to its full potential, especially with the service of selling kids toys, produces, and party themed souvenirs and adding on coffee and hot food. And it also has many requests of wanting to be franchisees as its great business reputation and business outlook. There are so much potentials with this turn key and growing business. Indoor playground is a new trend and it is young in the market. It has so much fun with emerging yourself with smiling faces, laughing, giggling, dancing, and singing during play and party events.
This business can give you so much feelings of fulfilled and rewarding from parents' much appreciation and kids' hugs. A year lease with two years options. Landlord can sign a 3-5 year longer term lease with buyer's good credit. Training available. Buyer will provide a list of fixtures, furniture, and equipment that comes with the sale(except couple personal items used for business and inventories of snack bar at value of $2000). Price is low and firm as seller can't fly back and forth to mend the business between two states.