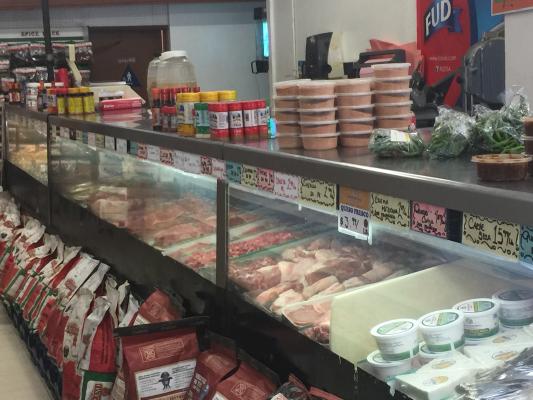 Absentee Owner. Great opportunity to own your own Meat Market with a Mexican Restaurant inside the store. Store is currently doing $90,000 +/- a month. Almost $70,000 of that is coming from the Hot Food with over 50% profit margin. There is also $500 monthly income from a water and Ice machine outside of the store.
Owner is never there he counts on his employees to run the store. Payroll is about $10,000 a month. All utilities are about $3000 a month. Seller also purchased a Tortilla maker for about $50,000 which was never used. Among all other equipment and fixtures Tortilla Maker is also included in the sales price.
Great upside potential by expanding the store, adding more groceries, adding check cashing, money services, Lottery, cigarettes, ext. Store is built on a 33,294 sq ft commercial lot. You have lots of room to expand and grow. Don't miss out on a such a great opportunity, Seller is motivated and he is willing to look at all reasonable offers. Call the listing agent now.
Sales Price includes the Real Estate, Business, Beer and Wine License, All Equipment and Fixtures. Inventory is not included in the Sales Price. Buyer needs to verify all financials and do his due diligince.
BUYERS ACKNOWLEDGEMENT: This business opportunity and/or real estate is listed by Stratton Davis Realty and or it's agent(s) ("Broker and/or it's agent(s)"). Visitor ("Buyer") fully understands that Broker or its agent(s) does not audit or verify any and all above mentioned information (not limited to sales, building size, lot size, margins, profits) given to or gathered by Broker or its agent(s) or make any warranty or representation as to its accuracy or completeness, nor in any way guarantee future business performance. Buyer is solely responsible to examine and investigate the Business, its assets, liabilities, financial statements, tax returns, and any other facts which might influence Buyer's purchase decision or the price Buyer is willing to pay. Any decision by Buyer to purchase the Business shall be based solely on Buyer's own investigation and that of Buyer's legal, tax, and other advisers and not that of Broker or its agent(s). Any listing information may change at any time without any notice.