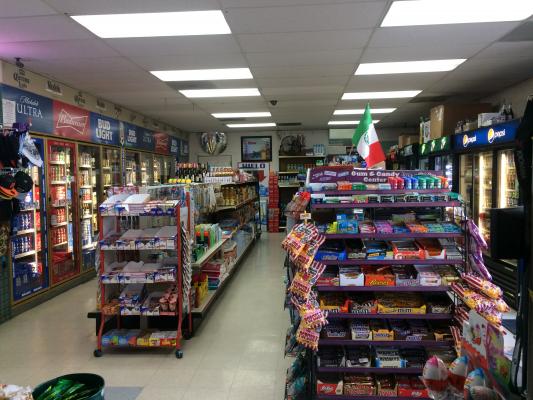 Located on a busy street in Salinas right off the 101 Highway. This liquor store neighbors with an indoor swap meet, floral shop, hair salon, tire shop, bakery, and motel. The various surrounding businesses, and ideal location off of a heavily traveled highway will contribute a steady customer base and constant foot traffic. There is ample parking for all business on property.
Presents a rare opportunity to purchase a business, and property in one. In addition to the buyer will acquire 2 retail rental units. Short term leases provide an opportunity to buyer to keep these tenants or add additional space to liquor store business. The 2,816 square foot building sits on an 8,000 square foot lot, which creates an open-ended opportunity to expand or transform the current business with ready clientele.
Equipment included: 2 cash registers with scanners, 1 8-door walk-in cooler, security camera system with dvr, computer & monitor, atm machine, safe, gondola shelving, glass displays,Budweiser Cooler, Coke Cooler, and more. A full list of equipment is available with the listing broker.
General information
Business:
Organization: Corporation | Square Footage Lot Size: 8,000 sq. ft., Liquor Store ~1771 sq. ft. | Licenses Required: ABC Type-21,City Bus Lic, Health Permit, SBOE, Tobacco | Days Open/Hours: Mon - Fri 7:30 am - 9:30 pm & Sat- Sun 8:30 am - 9:30 pm |
Reason For Sale: Health Hardship
Property:
Building Size: 2,816 sq. ft., Lot Size: 8,000 sq. ft. | No. Of Units: 3 | unit-1: 1,771 sq. ft. (Occupied by Liquor Store) | Unit-2: 245 sq. ft. (Rent: $825/Month, Current Lease Ends: 1/31/2019 w/ Possible Extension until 01/31/2021 | Unit-3: 800 sq. ft. (Rent: $1,700/Month, Lease Ends: 1/31/2019 w/ Possible Extension Until 01/31/2021
Revenue
Gross sale: ~$60,000/Month plus $13,900/ Year Lotto & ATM Commission & Rental Income $2,525/Month
Financing
SBA loan possible with 25% down payment, subject to buyer eligibility
For more details, please complete, sign and return the NDA (confidentiality agreement)
We obtain the information in this marketing package from sources we believe to be reliable. However we have not verified its accuracy and make no guarantee, warranty and representation about it. It is submitted to the possibility of errors, omissions, change of price, rental or other conditions, prior to sale, lease or financing, or withdrawal without notice. We include projections, opinions, assumptions or estimates for example only, and they may not represent current or future performance of the business & property. You and your tax or legal advisers should conduct your own investigation of property and transaction.