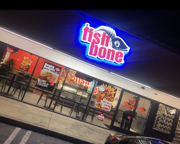 Big price reduction. Fishbone seafood is selling one of our high income earning locations in los angeles. This location is amazing in Compton. With daily income of $1,800 plus and specific days of $3,500 per day.
This store is open 7 days a week and has a huge loyal customer base.
The rent is just $5,500, excellent parking, on a great corner, no issues with crime at the store, well trained staff and a supply line that allows the owner to be an absentee owner if he or she chooses.
This location is just $150,000 (firm) with annual gross revenue of approximately $648,000. Each month expect to earn $54,000 plus. Pretax profits approaching $175,000.
Last month the gross was $52,000
We will train you on aspect of store ownership and give you all the tools you need to continue to be a success.
If you like people, respect your customers and go the extra mile for your customers i'll sell you this location. If you are not please continue your search. We only want to sell this business to someone who will love it and build it up higher.
So do yourself a huge favor and pick up the phone right now and call me and lets talk.
Owner lives 2 hours from store and can not travel.
Owner wants quick purchase!