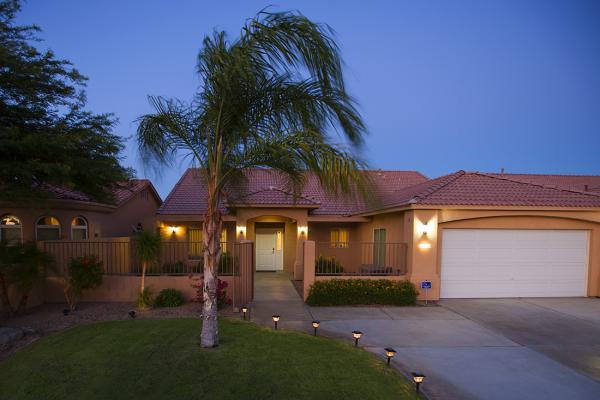 High-End Licensed Congregate Living Health Care Facility - CLHF A & C - Palm Springs Area - FOR SALE BY OWNER.
Opportunity knocks with this high-end Congregate Living Health Care Facility in the Palm Springs area. This 6 patient facility is licensed as both CLHF A & CLHF C! Ability to possibly expand to 8 patients (without construction).
The Palm Springs area affords low competition for CLHFs while being able to serve a large and affluent retirement community as well as a constant flow of visitors/tourists. Scalable business model with all solid local business/vendor contracts in place. Located between 2 major hospitals - Eisenhower & Desert Regional.
The impressive home that now serves as a facility was built in 2005 and customized & remodeled to perfection in 2016 with modern European touches. The spectacular single story facility boasts 2,440 sq. ft. of living space, 6 PRIVATE "SUITES" (1 private suite with its own full bathroom), impressive & luxurious main shower room with both a rainfall shower and a separate hand-held bodyspray, large separate handicap bathroom, and a staff/guest bathroom. The home has a large open floor plan, recess lights, high ceiling, new Rinnai Tankless Water Heater, fire sprinklers, back-up generator, huge kitchen with island, custom cabinetry & granite counters, stainless steel appliances, large living room with 60" Smart TV, guest refreshment table with 14 large compartments & a bottom load hot/cold water dispenser, dining area, a separate strategically positioned nursing wing between the 3 suites on each side of the wing, & complete with a nursing paging system/patient call system.
The nursing station has custom cabinetry and counters, eye wash station, touch screen ASUS computer, high-volume multi-function Brother printer/scanner/copier/fax, and a camera/security system to monitor all common areas. Camera/security system comes with extra large screen monitor mounted in the nursing station & has ability to remote monitor from smart phone or other computers off-site.
Additional items include 3M cleaning chemicals & dispensing system, laundry - washer & dryer with sanitizing options, crash cart, medical supplies, emergency food supply (20+ years of shelf life), wheel chair with headrest and footrest support, shower gurney with adjustable neck/head, & geri chair recliner with headrest & footrest support.
Because only the best will do, each suite has their own adjustable Invacare CS7 High-Low Bed (for high-risk fall patients) with Invacare Glissando Mattress (comfortable high-risk pressure ulcer prevention/reducer mattress), Invacare I-Lift Hoyer Lift (fully electronic) with Patient Scale & Mesh Sling, patient call button/nursing paging system in all suites and pull switches in all restrooms, 40" Samsung Smart TV, custom built private closet, wall art, ceiling fan, over the bed table, night stand with table lamp, and french doors in each suite with easy access to the serene wraparound backyard with covered porch, multiple outdoor ceiling fans, and 2 sets of patio furniture (dining & sofa sets) facing a tastefully decorated garden.
Asking price of $1,000,000 includes Real Estate, CLHF License A & C (see A & C definitions below), Policy & Procedure Manuals, Solid Business/Service Contracts, Medical Equipment/Supplies, Website, and all items mentioned above.Fully equipped with all the bells and whistles to start accepting eligible patients (ages 18-110) under CLHF A or CLHF C (see A & C definitions below).
The facility has not been in operation since licensing due to owner's personal/medical reasons.
*Note: No ventilator and/or ventilator related equipment included in this sale. Ventilator and/or ventilator related equipment are provided to the facility by contract. Contract is with a company specializing in Ventilator/Trach equipment and supplies, and provide their own Respiratory Therapists to both assess potential patients prior to transfer to the facility (all throughout California) & also serve as the Respiratory Therapist for the patients at the facility. Ability to negotiate lease-to-own ventilator equipment if desired.
A Congregate living health facility (CLHF) is both licensed & regulated by the California Department of Public Health (CDPH). A CLHF is defined as a residential home that provides inpatient care, including the following basic services: medical supervision, 24-hour skilled nursing and supportive care, pharmacy, dietary, social, recreational, and at least one type of the following services:
***CLHF A) services for persons who are mentally alert, physically disabled persons, who may be ventilator dependent;
CLHF B) services for persons who have a diagnosis of terminal illness, a diagnosis of a life threatening illness, or both;
***CLHF C) services for persons who are catastrophically and severely disabled.
The primary need of congregate living health facility residents shall be for availability of skilled nursing care on a recurring, intermittent, extended, or continuous basis. This care is generally less intense than that provided in general acute care hospitals but more intense than that provided in skilled nursing facilities.
*****
Disclosure: One of the owners is a California Licensed Real Estate Broker.
For all showing requests, please call Gary at 818-822-7988 or email garycalquestrealty@gmail.com
All offers must be complete with proof of funds and emailed to owner above.