Current Status:
Active
Posting #:
259788
Last Refreshed:
2/1/21
Contact: Harry Sidhu, CBB At 510-490-9705 - Also Email This Contact Below
Asking Price: $1,299,000 Down Payment: $25%+ Annual SDC: $213,827 Annual Gross: $840,000
Business Address: None Given City: Salinas Zip: 93905
Attributes: Broker-Broker Coop, Training & Support, Real Estate Included
Description:
Established in 1986, this liquor store is located on a busy street in Salinas right off the 101 highway. This liquor store neighbors with an indoor swap meet, floral shop, hair salon, tire shop, bakery, and motel. The various surrounding businesses and ideal location off of a heavily traveled highway will contribute a steady customer base and constant foot traffic. There is ample parking for all businesses on the property.
This business presents a rare opportunity to purchase a business, and property in one. In addition to the business, the buyer will acquire 2 retail rental units with rental income. Short term leases provide an opportunity for the buyer to keep these tenants or add additional space to the liquor store business. The 2,816 square foot building sits on an 8,000 square foot lot, which creates an open-ended opportunity to expand or transform the current business with ready clientele.
Following additional services are not provided by Seller and could create great upside potential for the buyer: EBT terminal, Money Transfer, Money Orders & Check Cashing.
Equipment included:
2 cash registers with scanners, one 8-door walk-in cooler, a security camera system with DVR, computer & monitor, atm machine, safe, gondola shelving, glass displays, Budweiser cooler, coke cooler, and more. A full list of equipment is available with the listing broker.
General information:
Business:
Organization: corporation | square footage lot size: 8,000 sq. ft., liquor store~1771 sq. ft. | licenses required: ABC type-21, city bus lic, health permit, sellers permit, tobacco lic. | days open/hours: mon fri 7:30 am 9:30 pm & sat- sun 8:30am 9:30 pm | reason for sale: other business interests.
Property:
Building size: 2,816 sq. Ft., lot size: 8,000 sq. ft. | no. Of units: 3 | unit-1: 1,771 sq. Ft. (occupied by liquor store) | unit-2: 245 sq. Ft. & unit-3: 800 sq. Ft. Rented to one tenant @ $2,700/month, lease ends 1/31/2021. Tenant is ready to renew for another term with possibly higher rent. The seller would like to keep this option open for a buyer, in case the buyer would like to expand liquor store space.
Revenue:
Gross sale: ~$85,000/m as per most recent sales data
($70,000/m average sales during 2020) plus $24,271/yr Lotto & ATM commission & rental income $32,400/year financing
Sba loan is doable for an eligible buyer with a 20% to 25% down payment.
All information contained in this document resulted from representations by the seller. Agents can not and will not verify the accuracy or completeness of any information. Purchasers must verify any such information themselves and should engage legal and financial advisors to assist with the process.
To get more information about this Liquor Store With Real Estate And Two Rentals business for sale in Salinas, Monterey County please phone Harry Sidhu, CBB (Intermediary, ProBuySell Member, Broker - BRE License #:01433114) at 510-490-9705 - if you get voicemail please leave a detailed message - make sure you mention you saw this posting/ad #259788 on BizBen.com. In addition to phoning Harry Sidhu, CBB, make sure you email Harry Sidhu, CBB above to get more info about this Liquor Store With Real Estate And Two Rentals, to ask any questions or request an appointment to see this business for sale. Thank you.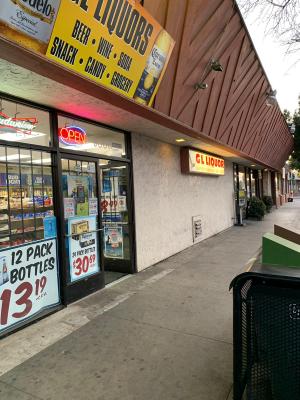 Contact: Harry Sidhu, CBB: 510-490-9705
Status: Active Posting #: 266436 Refreshed: 5/3/2021
Asking Price: $2,500,000+ Inv Down Payment: $20% Annual SDC: Call / Email Annual Gross: $2,520,000
Attributes: Broker-Broker Coop, Real Estate Available, With Real Estate, SBA Loan Pre-Qualified, Training And Support

Established in 1979, this high-volume market is located on a corner lot. Bldg. size: 6,880 sf, Lot size: 12,150sf. It is surrounded by residential housing and other businesses. The store provides ample parking for customers. Asking Price: $2,500,000 Plus ~$175,000 Inv. Asking price includes Business and Property. Gross Sales: $210,000/m Plus Comm. Income Financing: SBA Loan with 20% down payment Six month free payments and SBA fee waiver for loans closed before Sept. 30th, 2021.
Contact: Harry Sidhu, CBB: 510-490-9705
Status: Active Posting #: 267699 Refreshed: 5/6/2021
Asking Price: $99,000 Down Payment: All Cash Annual SDC: Call / Email Annual Gross: $240,000
Attributes: Broker-Broker Coop, Training And Support

Convenience store for sale in Santa Cruz Mountains Area, California. A perfectly hidden gem for this community. This place is known for its convenience. You can find almost everything here in the middle of the woods from Fresh sandwich, selection of Beer, Wine, Groceries, etc. Asking Price: $99,000 plus inventory ~ $20,000. Rent: $1850/month plus property tax $190/month.