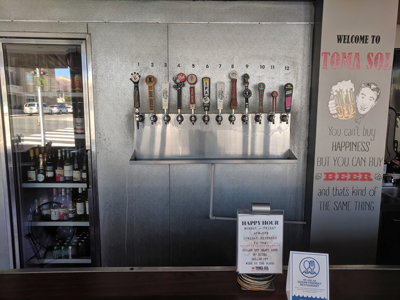 Craft beer restaurant offering 12 craft beers on tap, with a well established wine program and light food fare including appetizers, flatbreads, sandwiches, and salads. Our kitchen does not have a hood system. All food is prepared in a spacious kitchen utilizing a convection oven and microwave. We provide a modern comfortable environment with our floor to ceiling windows completely wrapping around the front of the restaurant which creates a bright, clean, and comfortable experience seating 50 and is family friendly.
We currently are only open in the evenings on weekdays providing an opportunity to open for lunch and increase revenue. We have been in business for 7 years and have created an extensive, very loyal regular customer base with email database of over 600 customers and loyalty member programs in place and maintaining great online reviews.
Located in the very desirable neighborhood of Mission Hills in San Diego, with plenty of through traffic and a dense population of affluent residents. We have a 41 beer and wine license with the ability to serve from 9 a.m. to 11.pm. Our lease is up in July 2020 and has a 5 year option. We have a 1,500 sq. ft footprint with a monthly lease around $4,900 with all NNN included. Staff is in place with POS system and with all systems in place for an easy owner manage opportunity with a transition into absentee owner situation very attainable.
Owner will provide training to help transition new owner in.