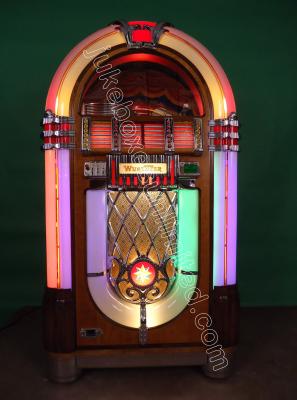 How COOL are JUKEBOXES?
1. I have a somewhat whimsical, nearly mystical, very unique, awfully fun, simply amazing, as well as highly rewarding business I'd like to sell in an industry I pioneered nearly 50 years ago.
I refurbish and sell jukeboxes, mostly to homes but some establishments around the globe as JUKEBOXES UNLIMITED. People tell me I have the 'Coolest Business' and the 'Greatest Job on the Planet'. But to me it's a labor of love.
Let's just say: 'I do OK.' I pay my bills all year long and still have enough left over to buy $80K or more worth of jukeboxes that I don't even need...And here's my reasoning:
If you were to buy a typical boring business and there was no inventory, you'd probably have a good idea as to where to go to get beauty supplies for a salon, ice cream for a parlor or soap for a laundromat.
But you might not have any inkling whatsoever as to where you're going to acquire jukeboxes with any regularity. I say 'acquire' because I don't always have to pay for them. People give them to me FREE.
My tax accountant depreciates my inventory yet it constantly increases in value. Like my huge 'parts department' accumulated over years and years that can never be replaced.
So anyone who buys my business will find it to be a fully functional operation with enough inventory on hand and no need to buy more for quite some time. I've acquired well over 100 jukes in the last three years anticipating this sale.
And just so you know, this is not rocket science. If you have a semblance of 'common sense' you'll do just fine. If you enjoy working with your hands, hate your current job and want to be your own boss, you're gonna love this job. This would be the perfect business for a family.
You don't even have to be a salesperson. Jukeboxes sell themselves. If the customer is coming to you to buy a jukebox, they don't need a sales pitch. You'll know this because they won't be responding to your ad, since there's no need to advertise.
Every day is a new adventure and sometimes even a challenge. I'd do this job for free if I could. Heck, my neighbors, who all hate their jobs, tell me they would too.
Everyone everywhere loves jukeboxes. When viewed or mentioned, people's eyes light up, a huge smile comes across their face and they gleefully tell you of their encounters and experiences through life with one or more of these beauties.
Next thing you know they're asking all about the history and magical workings of these marvelous machines.
JUKEBOXES are loved in nearly every culture in the world because they play the International language of love and peace . MUSIC!
-----------------------------------------------------------------------------------------------------
2. Through the years my unique venture and I have been featured numerous times on TV and in hundreds of print articles around the world. Decades ago ELLE magazine in France had me and a Wurlitzer in the centerfold. In 2017 the Music Magazine BILLBOARD published an article on me and the mysterious items I sell and why everybody loves them.
In 2015 NPR Radio rode around and kidded around with me for an entire day. My jukes have been in Super Bowl commercials and portrayed on a Rose Parade float. We're currently featured on a new TV show out of Canada called "Vintage Tech Hunters". Our appearance on 'Storage Wars' runs continuously. Our jukebox was on a Bruno Mars CD cover. A major beer company made my life into a TV commercial. I've been offered to do a TV series and right now a documentary is in the works.
---------------------------------------------------------------------------------------------------
3. These decades have brought me so much excitement, pleasure and fun it's hard to describe. I would love to see someone take over and continue the legacy of restoring high quality products born of American ingenuity while appreciating where it stands in our wonderful American culture.
You could continue to keep an American Icon living on, well into the future. And not just in the history books but in homes and businesses around the world. Recently a Chinese man came to Los Angeles with a translator and bought $80,000 worth of product.
Although every bit of what I have said has happened and is still happening.
'Nobody Doesn't like JUKEBOXES'.
So if you or someone you know has a few hundred thousand bucks lying around, we should talk.
Don't call, just send an email.
-------------------------------------------------------------------------------------------------
4. I run my business out of my residence which permits me to set up customer's appointments anytime they like. We've closed down our huge shop and now are able to perform everything we do in a 1400 Sq/Ft home/shop.
People around the world tell us when they Google 'jukebox' our site comes up within the first few pages, thus allowing the business to be operated as an E-commerce only. No physical store required.
Stored we have 250 jukeboxes, millions of parts, a 25' neon store sign, landline since 1980, trademarks, domains and an amazing site of 19 years.
--------------------------------------------------------------------------------------------
5. I have no employees other than a part time assistant with lots of life experiences and common sense; but I have long running contract shops around LA that provide a major percentage of the technical work. If the business were to stay in Southern California, I could easily consult and help make the buyer have an even more successful business than it is now. I would definitely want you to succeed.
---------------------------------------------------------------------------------------------
6. I haven't needed to advertise in any manner for over a decade yet occasionally place an ad on Craigslist with low dollar products for sale. What this proves is that people are seeking out my product even without being prompted by advertising.
I don't need or use eBay and have very few competitors around the world, but SoCal is probably the best location possible.
There are numerous avenues you can take this business down and expand it to no ends. One would be to take advantage of eBay. Back in the day, we were in shopping malls with ads on TV and lots of employees. Now it's just me..simpler!
---------------------------------------------------------------------------------------------
7. This business is only limited by the number of employees you want to deal with. Yet it should be set up in a Major city for worldwide recognition as well as availability of experienced workers.
Another avenue of income would be as selling jukebox parts online. At present there is only one actual seller of used jukeboxes parts in the US, yet there are a number of folks around the country and world selling reproduction parts.
We have a jukebox rental business that my son wants to keep yet could be offered to the buyer of this main business in the future.
This business has been my life since I was 29. I'm 76 now and I have this huge phonograph record library beckoning me to sort and sell.