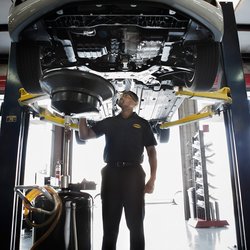 The automotive repair franchise industry is a multi-billion dollar market. Revenue for general automotive repair in the United States is projected to reach over $46 billion by 2020. There are over 250 million passenger cars reported on U.S. roads. Many of these cars are older cars, which is good news for automotive repair franchise owners. Routine car maintenance and repair are necessary services as Americans choose to keep their cars longer. The average age of a car being driven in the U.S. is 11.5 years old a record high in the U.S. car lifespan.
It is projected that the number of motor vehicles that are older than 12 years will continue to rise over the coming years. Approximately 38 million people use at least one auto repair service each year. Automotive repair franchises' wide range of services is always in demand as long as there are cars being driven on the roads. Automotive repair franchises cover a range of services that customers find useful in maintaining their vehicles. These services include general repairs, automotive maintenance, windshield repair, oil changes, muffler repair, transmission inspections, and body work.
Many customers prefer to take their car repair needs to mechanics who work for well-established and trusted brands. Franchises are these brands. Automotive repair franchises require their employees to have specific training and professionalism that consumers can trust. Starting an automotive repair franchise with a trusted brand will put an owner's business ahead of the competition in the auto repair industry.
auto repair, auto service, brakes, oil changes, franchise, training
Disclaimer: The information contained in this advertisement was furnished by the seller.