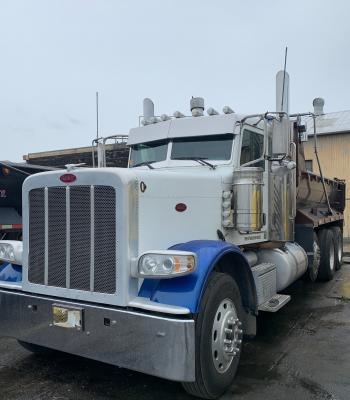 Great opportunity to own a profitable, high net, low overhead, well-established, trucking and hauling service business with over twenty-four (24) years of industry experience.
This reputable trucking and hauling business engages predominantly in providing removal and transportation of debris such as broken concrete, asphalt and other construction materials from demolition sites.
Over the years, the business has developed a well-regarded reputation for its professionalism, reliability, competitive rates and friendly customer service, earning a solid base of repeat and loyal clients as a result. The company services clients in the surrounding area, usually within 100 miles from its business location.
Presently, the company employs eight(8) experienced and qualified drivers that are up-to-date with industry standards and that provide a high level of customer service that is expected. Drivers are paid on an hourly basis ranging from $22.00 to $28.00 per hour depending on experience and seniority.
Eight(8) well maintained trucks with an estimated current market value of $730,000.00 (seven hundred thirty thousand dollars) are an included in this acquisition.
GROWTH OPPORTUNITIES
While the business has performed well over the years, the owner has focused primarily on maintaining the business and its clients rather than actively pursuing growth. The business has thrived primarily off of word of mouth referrals a testament to its reputation for quality and trust, leaving ample space for a new owner to actively pursue growth by increasing the business online footprint.
This can be achieved by creating a website for the business and developing and implementing a new sales and marketing strategy for the business by building an email database, sending out newsletters, launching Google Ads campaigns and improving the business' organic rank on Search Engine Platforms with a new SEO strategy.
High net, easy operations, well-maintained trucks, existing and repeat clientele with growth potential present a great acquisition opportunity.