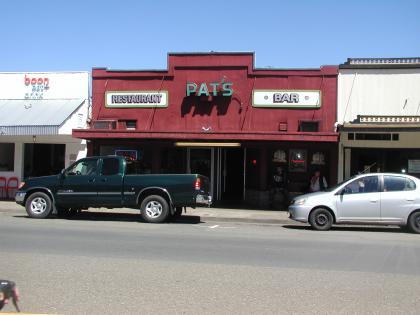 For Sale, Pat's Restaurant & Bar in Downtown Guerneville. This sale includes everything.
For 795,000 a buyer can purchase the restaurant, the bar which includes a type 47 liquor license, the commercial property for the business, and even a 3 bedroom house. So, with one purchase and only one mortgage, a buyer can have their own long established and profitable business, own their building for their business, and have a house to live in! How can you beat that!
Pat's Restaurant & Bar is nicely situated right in downtown Guerneville, in the heart of the Russian River Resort Area of the Wine Country of Sonoma County, California. Pat's restaurant has been owned and operated by three generations of the Hines Family since 1945.
As you walk through the front door at Pat's Restaurant you feel as if you have jumped back through time to an era before fast food chains, when sitting at the counter or a comfortable leather booth in your neighborhood diner had an atmosphere all its own. Patrons exchange small talk, the food is fresh, the service is friendly, and the waiters/waitresses know the names of all the regulars. The breakfast and lunch menus offer true American comfort food, deliciously fresh and full of real flavor that will keep you coming back. Pat's Bar is a great place to catch up with friends, meet new people, and have some fun. The Bartenders are laid-back, friendly, and the Beer is cold.
The information here is compiled from information obtained by the Seller(s). The broker makes no representation as to its accuracy or reliability. Buyer(s) should rely upon their own verification and of their financial &/or legal advisors with regard to this information.