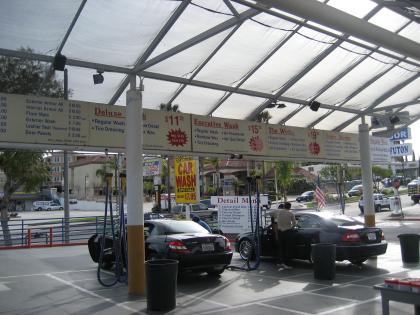 Property and business can be purchased separately. Combined price of Property and business is 2,350,000. Car wash business alone is 850,000. Real Property is 1,500,000. Annual Revenue of car wash was 512,500 in 2009, Annual Net Income was 164,000.
If Business and Property are purchased together New Owner's net income will be 268,768 a year because the current rent should be added to the Total Net Income. This Net Income interprets Cash on Cash Return being 11,44% per year. Call Listing Agent for Detailed Profit & Loss. All the records of sales and expenses are verifiable.
Car Count 100 Cars in Weekdays, 160 cars in weekends. Many Detail Washes here (Daily approx. 5 cars). Average Ticket Price is 16 per Car.
Equipment and Facilities are mostly new.
Upstairs of the building has a 1,200 SF Space with 2 Rooms, Shower and Light Kitchen space, which can be used for Manager's Apartment or rent for additional income.
Absentee Owner. Present Manager may continue to work for the new owner.
Location, location, location. The property is located at excellent spot for any retail business.
Upper middle class trendy customers. 5 minutes away from Manhattan Beach ocean.
Heavy traffic near intersection of Artesia and Redondo Beach blvd.
Walking distance from South Bay Galleria Shopping Mall (Nordstrom, Macy's, AMC Theaters, etc).