Current Status:
Active
Posting #:
267018
Last Refreshed:
4/27/21
Contact: Alex Shapouri At 310-985-8777 - Also Email This Contact Below
Asking Price: $6,250,000 Down Payment: $1,800,000 Annual SDC: $640,000 Annual Gross: $7,500,000
Business Address: 82253 Indio Blvd City: Indio Zip: 92201
Attributes: Broker-Broker Coop, Semi-Absentee Run, Training & Support, Real Estate Included
This sinclair station is pumping over $155,000 gallons/mo. @ 32ct margin. Store is very strong and can even do more if the store is expanded and beer cave is added. Plenty of room to add to the store. Tanks are dwf. Size of tanks are 20k, 12k, and 12k. Pumps are in compliance with emv. Sinclair contract ends in 8 years, however it may be canceled with paying $120k penalty. Station has laundry business with 39 washers and 28 dryers, plus 6 large dryers. Owner added u-haul several years ago and doing better every year. It did over 13500 last year.
Other businesses: racing fuel, mail box services, truck parking rental income, and rent is being collected from restaurant ($3595/mo.) Operation monthly gross profit: $110,000 plus rental income. Store has huge storage area. Restaurant is on month-to-month. Restaurant owner is operating this location for past 15 years. There are about 6 motels and inns within walking distance from the stations and it contributes to store sales.
Seller is willing to sell Business only for $1,700,000 with $25k/mo. rent (NNN). Buyer will collect rent from Restaurant (42K/year). 30 year lease available. If business is only purchased then Net profit should be about 390k after all expenses
Please do not talk to any employees during your visit. Upon proof of funds, financial documents will be provided. This location is approved for SBA loan.
To get more information about this Gas Station, Truck Stop - Strong Growth business for sale in Indio, Riverside County please phone Alex Shapouri (Agent) at 310-985-8777 - if you get voicemail please leave a detailed message - make sure you mention you saw this posting/ad #267018 on BizBen.com. In addition to phoning Alex Shapouri, make sure you email Alex Shapouri above to get more info about this Gas Station, Truck Stop - Strong Growth, to ask any questions or request an appointment to see this business for sale. Thank you.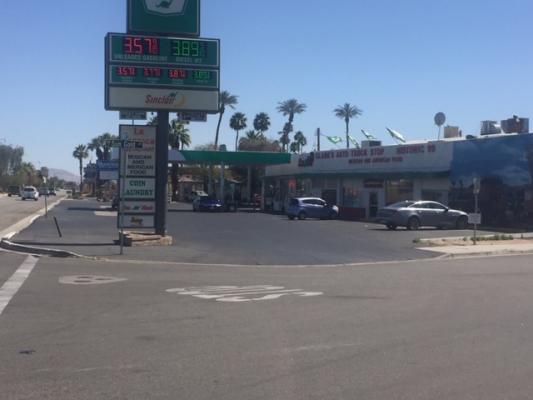 Contact: David Dawud: 818-464-5792 Cell, 818-464-5792 Text
Status: Active Posting #: 267683 Refreshed: 5/4/2021
Asking Price: $5,999,999 Down Payment: $5,999,999 Annual SDC: Call / Email Annual Gross: Call / Email
Attributes: Semi Absentee Run, Absentee Run, Real Estate Available, With Real Estate, Training And Support

Business & Property is available. Branded fueling station for sale in Riverside County, California. Currently X - press car wash since conversion in August 2017. The location has an ABC license. Spacious 41,382 lot with 4 MPD. Fuel contract expires June 6, 2026. 2019 Fuel Volume 815,399 GL. 2020 Fuel Volume 583,077 GL. 2021 Jan-March Fuel Volume 127,096 GL. 2020 Market Sales $290,038.97. 2021 Jan through March Market Sakes $49,322.27. 2020 Car Wash $498,920. +/- 1000 SF Market. 3- 11,500 gallon tanks. Gilbarco System.

|
Similar
|
Potential Buyers