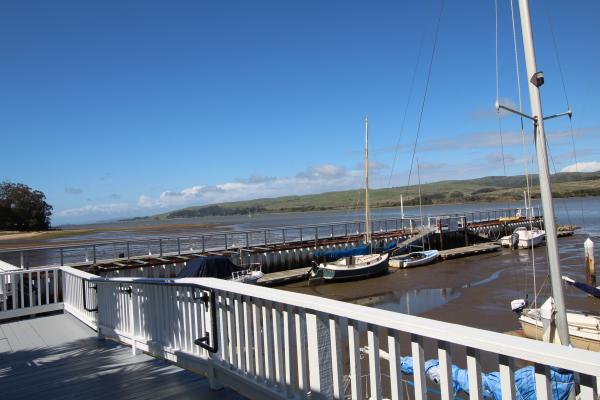 Beautiful waterfront restaurant with sweeping views of Tomales Bay located on a 35-room resort property with a marina and swimming pool. Restaurant serves locals, tourists, day tourists and resort guest with high demand for onsite catering and buyouts for weddings and retreats. The kitchen is fully equipped and the lounge boasts an 18-handle draft system serving beer, wine and kombucha. Revenues for the restaurant, which operates with limited hours in the off-season, were over $800K in 2018. There is a long-term lease in place with ample opportunity to increase sales. A lot of opportunity for the next operator to expand the onsite catering program with events, weddings and parties. Current owners have operated as semi-absentee as they own 2 other venues.
Additional Details:
- Restaurant is 2,500 sq. ft. (approx.) w/ dining room seating for 44, enclosed patio seating for 40 lounge seating for 18 and patio entry seating for 50. More onsite space available for events.
- Rent is $5,300 with current term expiring August 2026.
- Equipment includes 12'-0' (approx.) Type-1 Hood; Two Montague 6-burner stoves w/ovens; 2 dbl basket fryers; 10' X 6' Walk-in; ice machine; triple ware washing sink with dishwasher; two compartment sink; hand washing sinks; mop sink and much more (note, some equipment is property of the landlord and included with the lease)
- Restaurant opened in August of 2017 and currently operates 4 days a week: Saturday and Sunday, 9:00am - 3:00pm and 4:30pm - 8:30pm; Monday and Friday 4:30pm - 8:30pm.
- Restaurant is staffed with 4-8 employees depending on the season.
- Inventory is not included in the purchase price.
- Premise is licensed with at Type-41 Beer and Wine license.
Price Includes: Furniture, fixtures and equipment, training period, leasehold interest, leasehold improvements, and goodwill. Some personal items may be excluded from the sale. Inventory is not included in the sale and is available for Buyer to purchase at wholesale cost.
Disclaimer: The information provided here is compiled from information obtained by the Seller(s). The broker makes no representation as to its accuracy or reliability. Buyer(s) should rely upon their own verification and that of their financial and/or legal advisers with regard to this information.