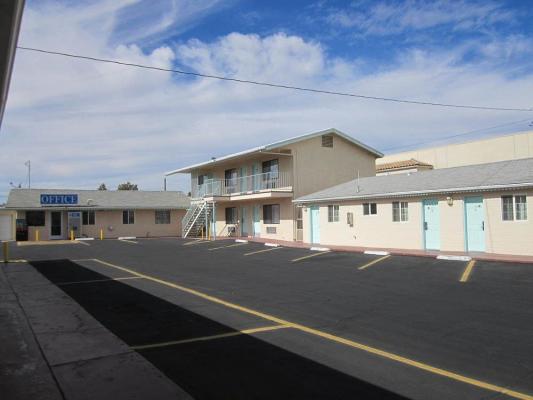 Located in Ridgecrest north from the center of the downtown area with close proximity to town, City Hall.
It's also near the China Lake Naval Air Weapons Station, Death Valley Tourist Center, Kerr McGee Community Center, Desert Empire Fairgrounds, and China Lake Golf Course.
The motel is centrally located to two of the area's most spectacular parks, Red Rock Canyon State Park and Death Valley National Park.
Death Valley National Park provides visitors with a variety of scenery due to the extreme climate.
Red Rock Canyon State Park provides spectacular views and ideal for horseback riding and off-roading.
The motel is ideally located to Death Valley and Edwards Air Force Base, and provides a convenient stopping point for tourist traveling to Las Vegas, Mammoth and San Francisco.
This is a 23 room two story exterior corridor motel built in 1949 and situated on .93 acres of fee simple land.
The motel offers its guests a Cafe which is on the premises open Monday to Saturday from 5 AM to 2 PM and Sunday from 6 AM to 1 PM.
The cafe is rented to tenant who operates the cafe.
Guest rooms offer high-speed wireless internet access, flat screen cable TV with extra stations, mini-fridge, microwave, air conditioning, ironing board, hair dryer, alarm clock, electronic door locks, free local calls and wake-up service, there's also a vending machine and ice.