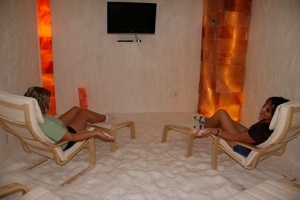 - New Asking Price: $20,000
Spa Finder highlighted salt therapy as one of the top five trends in the US.
Established by the founder, an experienced salt therapy entreprenuer from Europe in 2012, this is the first and only salt therapy focused wellness center in Silicon Valley.
The facility is located in a well maintained safe commercial and retail plaza with compatible tenants and free ample parking.
Salt Therapy is a natural, drug free program for relieving the symptoms of allergies, asthma, sinusitis, Chronic Obstructive Pulmonary Disease (COPD) and other respiratory conditions.
Every 5th person in the Bay area struggle with some form of respiratory problem.
At this salt spa, the focus is on respiratory wellness. The salt rooms are designed to replicate a salt cave.
A thick layer of salt crystals line the walls and coarse ground salt carpets the floor like sand.
A halogenerator blows microscopic particles of pure salt into each of the rooms. Clients sit back and relax in the comfortable chairs in a salt infused environment with soft lighting, and soothing music while breathing in the natural benefits of the salt air.
Each session lasts for 45 minutes.
Since opening in 2012, this salt spa has received excellent yelp reviews and is consistently rated 5.0 stars by happy clients.
The salt spa is spacious, exceptionally clean, and tastefully decorated to provide a very peaceful, relaxing, yet comfortable and positive experience for all its clients.
This 1,400 sq. ft. facility has 3 rooms, a spacious reception, office, storage and ADA compliant bathroom.
The facility set up is capable of generating multiple sources of income for the Owner.
1. Two salt rooms are fully equipped to accommodate up to 5 adults/kids per room comfortably for each 45 minute session. These rooms are also equipped with a TV & Roku player; children are welcome to choose from a variety of movies and shows during their sessions.
2. The 3rd room has been set up with 2 new Migun physical therapy beds for clients.
3. A spacious retail section adjoining the reception area is equipped with display shelves to hold salt related decorative items like salt lamps, salt scrubs, soaps etc. for sale to customers. The buyer may also bring in other items that promote health and wellness to increase sales income.
4. There is a 4th room that is currently used for office and storage. Potentially the buyer may also convert this room to provide additional 'wellness related" services to clients for more income.
The Owner operates the business efficiently with a user friendly website and management software.
This is a very simple business that can be handled by one person.
This business comes with an attractive easy to navigate website embedded with user friendly tools for customers to schedule and pre-pay on-line bookings.
Majority of the client base are repeat customers who purchase packages for multiple sessions depending on their needs. A variety of packages are available for clients to choose.
The role of the Owner is primarily customer service, operation and financial oversight.
The Owner does no marketing or advertising and its current sales revenue are from repeat loyal customers and referrals.
This business has a huge upside for the right buyer. It presents a great potential for business growth if the buyer is willing to open more days/week, add more services and has a strong marketing, promotion and PR program in place.
Reason for selling: A family member has a serious medical issue.
New Asking Price: $20,000 (plus inventory)
Down Payment: $20,000
FF&E - included
Lease: 1,400 sq. ft. with free ample parking in front of the shop.
Rent: $3,878/month (NNN included)
Expires: June 2023 plus 5 year option
Training (included): 4 weeks on site at 20 hours/week.
Employees: Owner part-time, plus 1 employee part-time
Opening Hours: Monday, Wednesday, Thursday, Friday: 11am - 7pm
Saturday: 10am - 5pm
Tuesday & Sunday: Closed
Business Established: 2012
Disclaimer: This Information has been provided by the Seller(s). Broker has not verified this information and makes no representation as to its accuracy. Prospective Buyers(s) should rely upon their own verification and that of their financial and legal advisors of this information representation as to its accuracy.