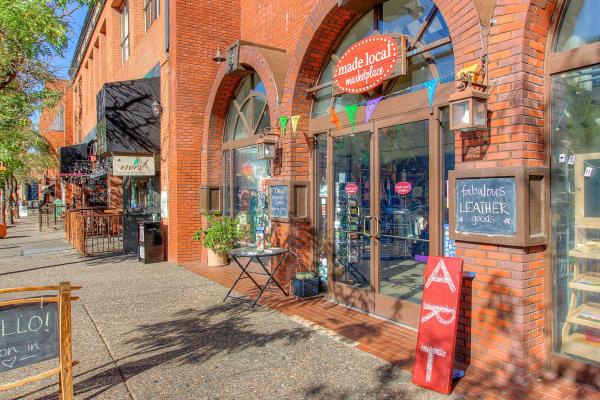 The Made Local Marketplace (MLM) is a successful, 8 year old retail business that features locally-made products from the north bay region of California. Over 800 vendors have sold their items at the shop since the opening in 2010. The diversity of products includes jewelry, home goods, food, clothing, kids, pets, health, beauty, wood, art and ceramics. The business serves loyal local customers and many tourists seeking unique, locally-made items. The 3,000 s.f. shop has a prime location in a busy area with significant foot traffic, directly on Old Courthouse Square in Downtown Santa Rosa. It is a few blocks to the smart train, is next to popular restaurants and shops, and a new boutique hotel across the street. The business also has a front row seat at large public events such as Ironman competitions, the Rose Parade and the popular Wednesday Night Markets. The many growth opportunities for the business include; adding online sales, hosting workshops, events and pop-ups within or in front of the store and/or obtaining a beer and wine license.
Selling the majority of products on consignment at a 50% margin has several significant advantages over traditional wholesale retailers. Selling on consignment allows for the ability to showcase a large variety of products without carrying the expensive burden of purchasing inventory outright (saves money!). Margins remain high at 50% - no discounts or specials are required to move stale inventory, which reduces margins and profit. If items are slow to sell, the artist can swap out product, keeping the store fresh and interesting. An annual participation fee contributes directly to the bottom line. Artists can bring in new products at the shop's discretion with no capital risk to the business.
Additional details
This is a fully-functioning, profitable, turn-key business, currently open 7 days a week, Rent is approximately $2.15/sf. Current term expires November 2020 with one 5-year option. The sale includes: point of sale system, non-consignment furniture, 3 refrigerators (double, single, mini), 7 cu ft freezer, wholesale product, non-maker owned display fixtures, security system, stereo system, vendor and mailing lists, training and significant goodwill.