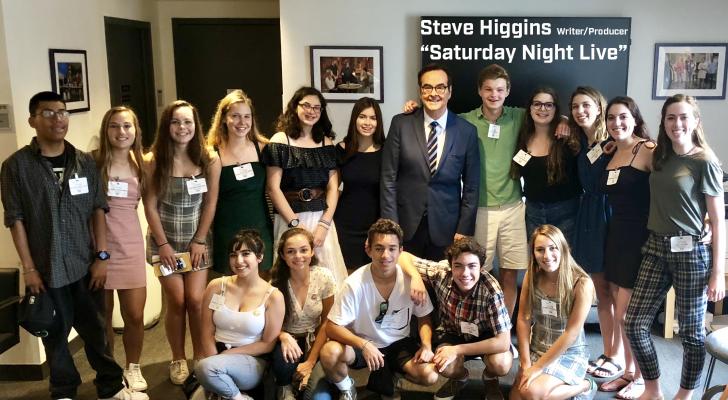 FastForward Magazine is an award-winning San Francisco Bay Area publication written by students, distributed free to public and private schools. FastForward has a print readership of 15,000 in Marin County plus a website. The publication is distributed free through businesses and schools throughout Marin County. The publication and journalism program has garnered wide acclaim during its 27 years including a Statewide Media Award from the California School Board Foundation and has been featured on CNN.
Over the years, FastForward's student writers and reporters have interviewed many interesting and high-profile artists, innovators, writers, musicians, including Governor Gavin Newsom, ABC World News Anchor Diane Sawyer, Monica Lewinsky, Actor Ed Norton, CNN News Anchor Don Lemon, Mickey Hart, Carlos Santana, Anne Hathaway, Channing Tatum, Saoirse Ronan, Steve Higgins (Writer/Producer of Saturday Night Live), Hilary Clinton and more. Students have conducted interviews with lead Editors (Sally Singer) at Vogue Magazine, Teen Vogue Magazine, VICE, BuzzFeed, Facebook, Google, Pinterest and Airbnb. Students have attended major Broadway productions and conducted interviews with the casts of 'Wicked,'Hamilton,' 'Jersey Boys', 'School of Rock', 'Dear Evan Hanson', 'Mean Girls' and more.
By visiting creative and innovative companies and meeting inspiring leaders and political figures with passion and talent for creating change, our student reporters leave interviews with renewed aspirations. FastForward could be a national, scalable model for a successful media outlet based on our access and interviews with celebrities and high-profile companies.
The magazine has been a monthly published 10 times a year, September June, 32-40 pages in each issue, supported by sponsors and advertisers. We conduct interviews in summer in the Bay Area, LA and NYC. We publish these interviews beginning with the first fall issue (September). This past year, we tried a different local model. We published FastForward as a bi-monthly, (5 issues) and on the off months, created high-end 12-page magazines at local public schools at no cost to the schools, but supported by FastForward sponsors and advertisers. This has proven successful with no decrease in revenue, creating more energy and success for students to write and share their voice.
The business is a home-based business. We take students on interviews at company or site locations. In summer, we rent High School journalism labs for meetings and editing. We run 3 weeks of summer camps with 4-5 interviews each week, ending with 15-17 stories to run in the 5 issues from September, June (months of school year).
We take small groups of students to NYC (1 week) and Los Angeles (4-day) in the summer where we conduct interviews during the day. Parents pay all transportation fees. These trips provide fun interviews that insure many interesting stories for monthly school year editions.
The magazine has 27 years of good will locally, and five years in NY and LA. The magazine provides youth a means to express their voice, learn about new jobs and careers in their future. The project is a win-win. Former editors and student journalists now work at Saturday Night Live, Audible.com, and with Ira Glass at 'This American Life' to name a few.
As the Publisher of the magazine, I have been doing this for 27 years and am choosing to retire and enjoy my children and grandchildren. I want this opportunity to go to someone new who has passion and can take FastForward to the next level.