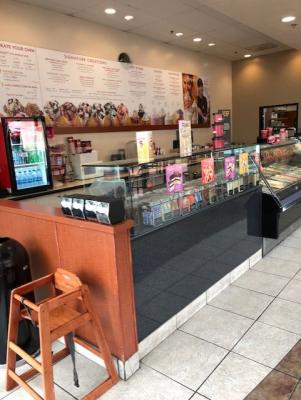 This Cold Stone Creamery store needs no introduction. It has been a flagship store for the owners for past 17 years approved by the franchisor to be one of their training store due to its impeccable record of top notch performance and accolades earned with dedicated hard work and team effort by trained employees at this location. The absentee owners take a lot of pride for their achievement and are so well connected in the community to capture repeat customer base and other catering accounts for their outside sales activity.
This store is located in busy shopping center anchored by target and other national brand chain stores like of Starbucks, Panda Express etc. and right across are 14-screen movie theatre. It generates plenty of traffic. Nice visibility from the theatre and attractive indoor trampoline business brings business to the store for ice cream and ice cream cakes for birthday parties and more. Additionally the store is nicely situated to capture state university business especially now that they have recently changed their on-campus food policy allow outside food vendors the opportunity to cater on campus students and faculty members. This store location is in the approved vendor list. Owners recently have made in roads to this opportunity and therefore it will generate repetitive business sales for the store.
Store employs 14 employees including resident full time manager. This store is the owners pride and they have spent good amount of money to upkeep to the latest upgrades required in the store - very presentable location offers unlimited opportunities for the new owners to get involved in the community, schools, churches, and now state university. Also, can participate in year around community markets and festivals. Add.'l fees apply.
Cold Stone Creamery is the most popular ice cream franchise in the market across the county and besides kids the adults of all age groups love the customized ice cream, shakes, smoothies, treats, cakes, and idea of family get together for a treat never gets old. First timers or experienced operators or investors can enjoy the ownership of this simple to run franchise operation that lets you cruise control whenever you wish. Professionals in the corporate world enjoy owning Cold Stone Creamery due to the ease of ownership and nice profit margins.