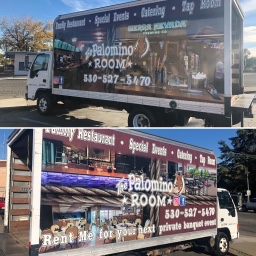 Restaurant/Bar/Catering Operation -Type 47 ABC liquor License - 9,600 sq. ft.
RRC#: 3434
Asking Price: Offered At $299,000
Location: 723 Main Street Red Bluff, CA (Tehama County)
Annual Revenue: Contact For Info
Annual Cash Flow: $145,000
Monthly Rent: $2,400
Listing Description:
The Palomino Room is more than just a bar and restaurant. It's a piece of Red Bluff California history. This is a well established restaurant, bar and catering operation. The bar is a red bluff favorite to locals and tourists alike with 18 seats at the bar rail and another 35 seats in lounge area. Six large tv's make for a sports bar experience. Complete with a pool table .The giant golden horses sculpted into concrete by a bottle opener decades ago still gallop on the wall. The same hand carved the horse heads decorating the ends of rafters that still crown the bar, although now riding higher above the heads of the crowd. It has a draft beer tower which holds 10 beers on tap with the capacity of adding many more and a valuable ABC type 47 hard liquor license which is all included with the sale. Restaurant is a easy walk through to the other side. The restaurant area has seating for approximately 65 people with a fully stocked bar, stage for bands, dance floor, complete with a Mobile DJ System. Downstairs kitchen includes a 12ft type 1 hood with up graded fire suppression system, char broiler, flattop, 6 burner stove, 2 confection ovens, two regular ovens, 2 extra large deep fryers and many refrigerated worktops and stainless steel prep tables, dishwasher, and large walk-in cooler. Huge prep and storage area to prepare for large banquets and special events. Upstairs, another room serves as a gathering place for wedding receptions, service clubs and organizations and holiday parties. Unique 5 by 7-foot wood pieces hang on the wall, one made of a flume and the other of an old water mill. Full bar upstairs with 85 people capacity, refrigerator, bar sinks, presentation system, dance floor, kitchen has a type 2 hood system. The upstairs space is finished off with a nice oversized office and balcony that looks out over the downtown area. Full ABC Hard Liquor License Type 47. Bar Restaurant and catering / special events built in business. Valuable and Extremely rare lease with 9,600 sq ft @ $2,400 month plus options. Catering Truck, rolling smokers all catering equipment comes with the sale. Two kitchens. Two special event tents Complete the Non Disclosure Agreement' on our website and we'll send you the Lease, full financial information & list of equipment included with the purchase. We'll also send you the Broker's contact information so you can discuss this opportunity in more detail and arrange a behind the scenes tour of the property.
General Information:
Organization: Corporation
Established: Contact For Info
Current Owner: Contact For Info
Employees: Contact For Info
Reason For Sale: Contact For Info
Financial Information:
Monthly Revenue: Contact For Info
Monthly Cash Flow: Contact For Info
Annual Revenue: Contact For Info
Annual Cash Flow: $145,000
Payroll: Contact For Info