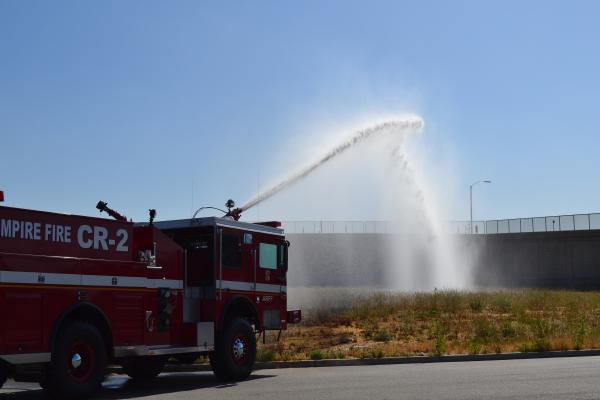 Rowland Fire LLC's main purpose is to contract wildland aircraft firefighting equipment, ARFF (Aircraft Rescue & Firefighting) trained firefighters and fire suppression services to fire agencies during the wildland fire season in the Southwest United States. Rowland Fire LLC employs on-call firefighters. Most are ARFF certified. Our assets are an aircraft crash rescue vehicle (ARFF), a command trailer (22' Tahoe toy hauler) (Base Radios, Weather station, satellite, Internet, etc.), a pump trailer (used for drafting from streams and lakes) and an utility pick up. We operate with a type 1 water tender (3,500 gal) on loan from another private fire company. July thruDecember our apparatus will be working wildland fires for the U.S. Forestry and for CAL Fire. We are written in the Response plan for the U.S. Forestry which is required for Cal Fire deployment. Rowland Fire LLC is officially in the U.S. Forest Service response plan for the 2017 fire season.
There is currently a high demand for Aircraft Rescue Firefighting apparatus for helibases on wildland fires. When a type one helicopter or three or more helicopters are assigned to a helibase, an ARFF is required for aircraft fire suppression. The helicopters are used for water drops on wild land fires and can only fly for a hour at a time. This requires that they be stationed close to the fire so they will be available for more flight time. The current inventory of ARFF's in the Western Region is dedicated to airports.
Since our company's main objective is supplementing existing services, with the same or in most cases more advanced or specially designed apparatus, staff and training, there is a large demand for our services. The growth of Rowland Fire LLC will allow the fire departments we serve to focus on maintaining the equipment needed for day to day operations. We will offer large capacity water tenders and ARFFs for use off airport property for the larger incidents that occur during the wildland season of the year. We will offer trained personnel that will function at the same level as the firefighters we work beside (our staff are current or retired firefighters). We will start with a modified ARFF (CR2), a command trailer, drafting pump trailer and a utility pick up and grow the assests and expand our response area. The modified ARFF is designed to go to areas a traditional ARFF is not able to go like steep mountain roads, rocky terrain and over high brush. The ARFF has been modified to also be able to meet the needs for structure protection and wildland response. It is the only ARFF with this ability.
We are looking to sell the assets or accept an investor and can stay on to help with the transition and growth. All the equipment that is necessary is included. All that the new owner will need to do is finance the yearly training for the team, the yearly pump test for the ARFF and maintain the proper insurance. There is a minimum profit of 33% per fire contracted on.