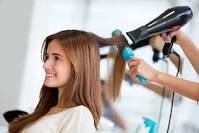 Profitable & Growing Specialty Hair Salon with Memberships - largely Absentee.
Hair salon voted Best of North County, San Diego. Great reviews. Membership and Packages offered. Beautiful, professional, spacious and welcoming environment. Modern decor like new, modern concept successful. From bi-weekly "maintenance" to special occasions or disabled customers, this salon serves the image conscious North County Coastal community.
Net Sales from Services:
2016 $496,288
2017 $597,335
2018 $665,915
Most employees are paid minimum wage hourly plus bonus. Manager/Trainer in place.
10 stations, 4 wash basin's, color bar and private room for esthetician. Washer/dryer, sink, refrigerator, front desk with 2 computer stations, TV's and storage closets. Sound, security system and new AC. Plenty of room for retail and growth. 14 Stylists and 4 other employees including a manager and trainer. 4 full-time/14 part-time.
About 5 years remaining on lease expiring July 21, 2023, option negotiable. Current Lease incl. CAM $6,593. Terrific street presence and ample parking. FFE/TI estimate $200K.
Salon concept suitable for franchising with motivated ownership.
2018 Net Sales from Services $665,915, Absentee Net $85,207. SDE/Owner operator $122,049. Asking $239,000 (some inventory may be included). SBA or Seller Financing possible to those with good credit.