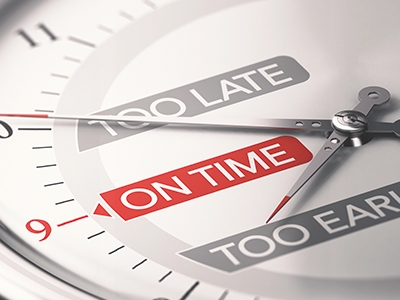 Determining the right time to sell a private business is as much an art as a science, because there are so many factors at play and each business is unique. The timing of a business sale is critical.

Putting a business on the block at the wrong time can result in a significantly lower selling price. Creating a successful company takes years of long hours to develop a loyal customer base and to ensure that you service those customers to the best of your ability. No one who has spent years building up his or her own business, with all the sacrifices involved, wants to see their business sold for less than the full value.

One of the first time considerations in selling a business is the age of the owner. There are actually three ways to look at that age: i 1) the chronological age (measured in years); ii 2) physiological age (measured by health); and iii 3) psychological age (measured by state of mind, including energy and drive).

Of these three age determinations, the least important is chronological age. Some business owners are physically and mentally ready to retire at 50, while others are still roaring to go well into their 70's.

Physiological age is a big factor in selling a business - and unfortunately, selling in a hurry due to health problems is very common. When the sale is precipitated unexpectedly by a health crisis, the business owner may be pressured to wind things up quickly and will accept an offer that doesn't represent the true value of the company. Or, if the owner is completely incapacitated, it may fall to relatives or others to sell the company - and once again, the likelihood of "settling for less" is very strong.

Finally, lack of planning can mean that the business is not in a good position to be sold, either because of the way it is organized, its sales, or other matters that have an impact on its value. An owner's psychological age can lead to mentally "giving up" or, conversely, the inability to imagine a future for the business without him - or her - self in it. Both have implications on the owner's readiness to sell and the ability to do it successfully.

Judging the right time to sell a business also requires a strategic look at the business's growth cycle. Businesses have growth spurts at different times and owners should try to sell when they have benefited from an upturn.

One client we worked with a few years ago wanted to sell relatively quickly, but an analysis of his sales figures suggested that his business was in a major upswing and , if he waited a couple of years , he'd be able to sell it for twice as much.

Another key factor in determining the best time to sell is by paying attention to economic trends. When the marketplace slows down, businesses can still grow , providing they take more market share from other companies. But that requires the business to have something unique about it - a distribution advantage, a technological advantage or something else that allows it to thrive, despite an economic slowdown.

During an economic upswing, it is important to try to time the sale of your business when there is still growth for the purchaser to realize. This is especially important if you are participating in the continuing success of the business through consulting or an ongoing payment structure. There are many other nuances, such as family dynamics, personal goals, lifestyle decisions and more , that influence when businesses are sold.

But remember, if you're willing to settle for 10 to 15 per cent of the value, you can sell your business tomorrow. If you want at least 100 per cent, it takes time and effective planning.

Consider your age, how your business is doing, and keep a close eye on the economy. Preparation to sell can begin as much as three to five years before a business is put on the market, and you should plan on at least nine months to a one year for the actual sale process - from the initial documentation and estimation of value through to the final closure of the deal.

Take the time to carefully assess all the pertinent facts, then develop a strategy to sell your business "at the right time, to the right buyer, for the right price."