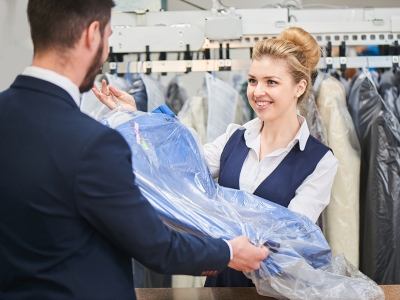 Laundromats are excellent business opportunities for entrepreneurs who do their homework. Many small business owners look to existing facilities when they want to start their business. However, don't buy a laundry business before you consider these five points.

Find The Right Lease Term To Buy A Laundry

The lease will be one of the largest monthly expenses for anyone who wants to buy a laundry, so the terms and price of the lease can make or break a business from day one. While many businesses can pick up and move locations if their lease no longer works for them, Laundromats do not have the same luxury. The equipment, plumbing, and wiring for a Laundromat are all unique compared to other businesses so moving locations is a drastic measure.

Overall, the lease needs to last long enough to recoup your investment, or at least eight years on average. Even entering into a lease of over 15 years, with the right terms and options, is a good business move. When you buy a laundry, expect to pay up to 20 percent of your gross revenue on the lease; any more than that creates a substantial business risk.

Efficient Water Usage And Management
Water and sewage expenses are another big ticket item when you are looking to buy a laundry. When evaluating a potential Laundromat, look at the last two years of water bills and usage. These numbers will give you an accurate portrayal of how much business the Laundromat pulls in and how efficient the equipment runs. Unusually high numbers also suggest plumbing leaks that can turn a good deal into a lemon.

Location, Location, Location

Some Laundromats are located for success; only buy a laundry business with an ideal location. Buy a laundry that is situated close to customers and is convenient to access. This means you need to buy a laundry that is in close proximity (within a mile or so) to a large number of apartment complexes which will provide a strong base of regular customers. A convenient location to buy a laundry includes ample parking, access from a major road, and a number of neighboring businesses to keep patrons busy while they wait on their next load.

Evaluate Existing Equipment

If you buy a laundry with old equipment, you are going to be hit with a big expense fairly quickly. Get the make and model numbers of all the equipment in the Laundromat. Your typical front load washers and dryers should last 15 to 20 years with top load washers around 7 to 10. At best, if well maintained, front loaders can last 30 years and top loaders up to 15 years. Anything beyond these timeframes is potentially ready to retire.

Extra Income Sources

Do you have room for vending machines, snack machines, soda machines? How about internet stations, video games, or even tanning beds? These accessories can bring in good money as well from customers as they wait on their laundry.

In the end, these five tips will put any aspiring businessperson in a strong position to buy a laundry business.

Looking to buy a laundry business? See all laundry businesses for sale in California - or sell a laundry business and reach thousands of laundry buyers. Also keep up to speed on the California coin laundry market (with industry business brokers & experts) with upcoming BizBen Online Talk Shows & Webinars.

About The Author: Peter Siegel, MBA is the Founder of www.BizBen.com (established 1994 - 7000+ California businesses for sale, 200 new listings daily) and the Director of the BizBen Network (16,000 business buyers, 4,000 small business owners, 1,800 California business brokers & agents). Peter Siegel can be reached direct at 925-785-3118 to discuss selling a laundry, financing a laundry purchase, or buying a California laundry.