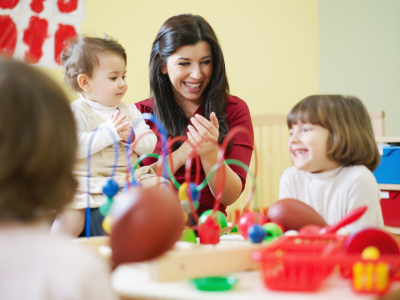 Owning a preschool can be a lucrative and rewarding career. However, like any other career there comes a time when owning a preschool business is no longer the right fit. Before you get to that point, I suggest you consider your exit strategy and start the process of determining a value for your business.

If you are the owner and operator of your business, a solid exit strategy is even more important as the families that come to your school have most likely become attached to you personally.
There are several things to consider when placing a value on a preschool You not only need to take into consideration the business's assets that will be sold along with the company but also the preschool's reputation in the community. Businesses that are regarded as leading preschools in their area can go for premium prices so know what you have so a potential buyer can't take advantage of your lack of knowledge.

Consider What Is Included In The Sale

The first step in determining a value for your preschool is to decide what is going to be included in the sale. Are you selling the business and the customers that come along with it? Or are closing down and liquidating assets? Is the facility that the preschool operates out of part of the sale? As I am sure you know setting up a preschool and making it meet state requirements can be an expensive task so if you are selling your facility along with the business, be sure you are placing a value on the business itself, the property and everything in between.

Other factors to take into consideration include your competition, your staff and other parts of your business that may set you apart from another preschool business for sale. For example, if you have a unique curriculum or a program that has landed you an accreditation by a governing party in your state; you will be able to value your business higher than a competitor without these accolades. As you are thinking through things like this also consider any higher education you've provided your staff including additional health and safety training courses.
Find A Business Broker, Preschool Consultant, Or Specialty Advisor

Once you assess what you have to offer, I suggest you begin the process of finding a business broker to work with. Not only will they help you determine a fair valuation but they will also help you in the next phase of the sales process when the business actually goes to market. An experienced business broker will have a good handle on your market and be able to help you establish a fair price that will be attractive to buyers yet beneficial for you.

Find The Right Buyer

Understand that the preschool business is not for every buyer. Some buyers may start the process thinking that they want to own a preschool but once they dig in a little deeper they realize it's just not for them. It takes a very patient individual that truly loves children to own a preschool, especially if they are going to be the owner/operator.

Along with being a good fit for the job, a buyer that has had exposure to the industry will appreciate the importance of a good reputation in this industry. They will also value things like a clean, well-maintained facility and an educated staff. Not only will finding the right buyer ensure your business succeeds once they take over but it will also set you up to receive a fair price as they will appreciate the efforts you've put forth to separate your preschool from its competitors.

Industry Outlook

Parents are more focused than ever on their children's education. Each year, parents spend thousands of dollars to put their kids in the best preschools. Many parents believe that a good education begins at the preschool level and President Obama agrees. In the past year, President Obama has suggested that in the future preschool may be mandatory and/or provided to all children as a means of better preparing them for school.
As an owner looking to sell their preschool, this is great news for you and something you should definitely be pointing out to potential buyers if they don't already know about it. While nothing has been passed or set in stone that indicates this will actually happen, the possibility is there. For your business, this shows that there is potential for growth in the future.

More Information / Resources On Buying And Selling California Preschools:
All California PreSchools For Sale & Wanted To Buy Requests:

https://www.bizben.com/business-for-sale/daycare-centers-preschools-for-sale-type-california-ca.php
All Business Brokers & Agents Who Assist With Buying And Selling Preschools:

https://www.bizben.com/business-brokers/daycare-centers-preschools-business-brokers.php
Preschool Resources To Asssist You With Consulting, Financing, Due Diligence:

https://www.bizben.com/business-resources/daycare-centers-preschools-resources-california-ca.php
More Articles & Blog Posts Regarding Buying And Selling A Preschool:

https://www.bizben.com/blog/daycare-centers-preschools-blog-posts.php

One last thing . . .

Keep in touch - let me know if you need any assistance with either buying, searching for, or sell a California preschool - I will point you in the right direction. If you have a specific question about buying and selling a preschool contact me and I will answer it for you.