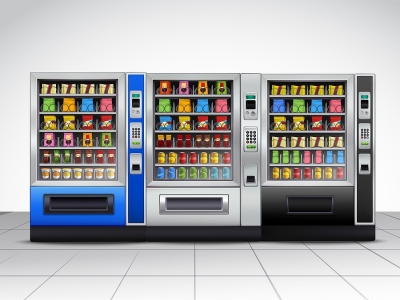 The population of buyers for small California businesses has grown dramatically over recent months, with corporate layoffs releasing thousands of business-savvy people into the market for companies they can buy and manage. A well-run organization with a history of profitability, in a business that doesn't require advanced university degrees to understand and operate, is exactly what these buyers want.

This is a good trend from the standpoint of owners of full-line vending route companies who are ready to sell.

PROPER PREPERATION

The mistake often made by sellers in this business is to think that because theirs is a popular category among prospective buyers, they need only announce the company is for sale and watch the offers come in. By not preparing a vending business to look its best--in terms of its assets and its financial performance--a seller may not realize the best available price and terms.

And no "extreme makeover" is called for. It is a good idea, however, to take care of some of those adjustments that have been put off--changes that will improve profitability and ease of operation. That includes the slightly stressful work of analyzing the route patterns and delivery schedules to see if driver time--and hence payroll cost--could be used more efficiently.

One vendor was able to combine route "portions" into a program that required two-and-a-half routes rather than four. He'd put it off, not wanting to lay off a driver who'd been with him a long time, but the resulting changes substantially reduced his costs, boosting profitability and resulting in a significant increase in the prices proposed for his business, compared to what was offered prior to the change.

Another important move is to eliminate locations that yield marginal profitability, so equipment can be placed in more productive locations and route drivers can avoid the "break even" or loser stops. Naturally it's critical to continue to serve underperforming locations if they are satellite facilities of large clients that provide more profitable vending stops.

A look at the inventory being sold is next. It's surprising how many vendors carry items way past their expiration dates. Perhaps the customers don't notice, and don't care. But prospective business buyers are on the lookout for little hints that the prospective purchase candidate is not worth the asking price. It's foolish to lose a deal or a substantial amount of money that might have been offered over small issues such as out-of-date merchandise.

ORGANIZED PRESENTATION

Most business brokers know how to prepare a "route report" for review by qualified buyers. Sellers who don't have the benefit of that service should know it's an easy document to put together, and should list clients by number, instead of name, with their vend locations designated with alphanumeric code, i.e.: Location A, Location B, and so forth. Then the type of machines is listed, along with the month-to-month collections from each.

Also organized should be the protocol for revealing information to prospective buyers. The route report, even in its coded format, should be seen only by buyers who have been qualified, and have signed a non-disclosure form. The request to "ride the route" should be granted only to a buyer with whom the seller is in contract, with a contingency being the buyer's right to cancel the sale if not satisfied with due diligent inspection of business records and/or a visit to some of the locations. Seller's condition should be satisfactory review of buyer's financial capability.

PRICING

The standard rule of thumb, that a vending company is worth 50% of annual gross revenue plus wholesale value of equipment and inventory, continues to be followed, with the understanding that a company using the latest "hardware," such as owned machines able to take debit or "value" cards as well as cash, may yield up to a 10% premium. A lower value might be the "right price" if the buyer will need to institute changes needed to improve the company's profitability.

It may take a month or two to get a full-line vending company ready for sale, but getting a top-tier price makes the effort worthwhile.

See all vending routes for sale on BizBen.com

About The Author - Peter Siegel, MBA is the founder and President of www.BizBen.com - and the BizBen Network of California business owner/sellers, business buyers, business brokers and business advisors. A nationally recognized author (3 books and a syndicated small business blog) and expert consultant. If you are selling a business and need professional assistance utilizing high performance advertising, marketing, and highly effective strategies, or individual customization with your BizBen Power Search options in buying a California business, you can reach him at 925-785-3118.